1. Introduction
What makes me write this Asus ROG 3070 review? Well, I would not name myself a hardcore gamer, but from time to time, I find some game that makes me forget about everything else.
But my old good Radeon RX 580 video card started to disappoint me. Lags in big fights, freezing, 100% fans… So I decided to upgrade my PC, most importantly – upgrade GPU.
Since I usually upgrade PC once 5 years, the decision was set to buy top tier, latest generation Nvidia GPU flagman – RTX 3080 or 3090. As marketers say, "You deserve it!" ( translate – take that most expensive thing you barely need).
To be honest, I just was so tired of freezes that I don't want to see it at least for 2-3 years, better never again.
But reality prepared surprise for me…
2. Miners and GPU shortage
What I didn't expect, you can't really buy a good card on amazon now.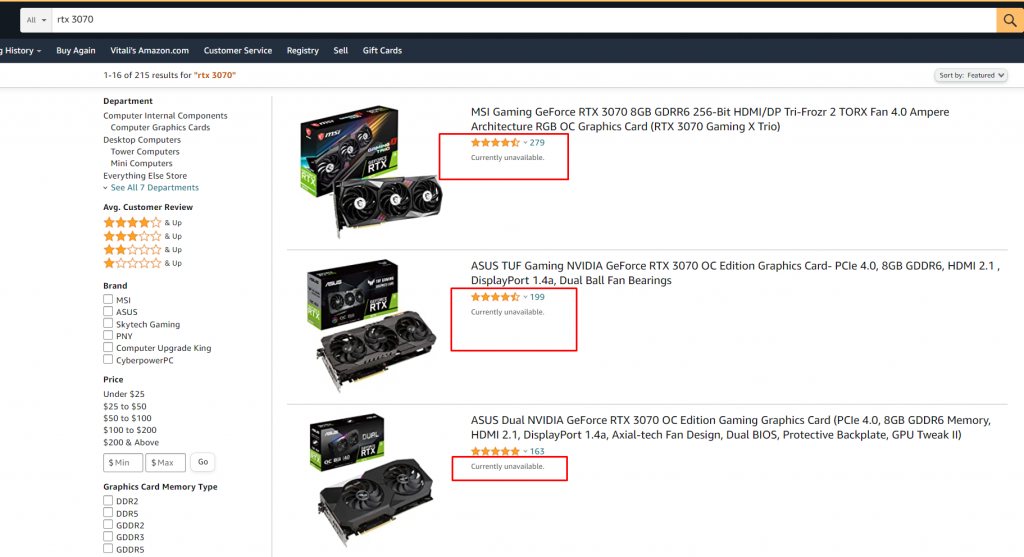 With hands shaking, I checked my local shops. Success! Cards are there! But the price shocked me…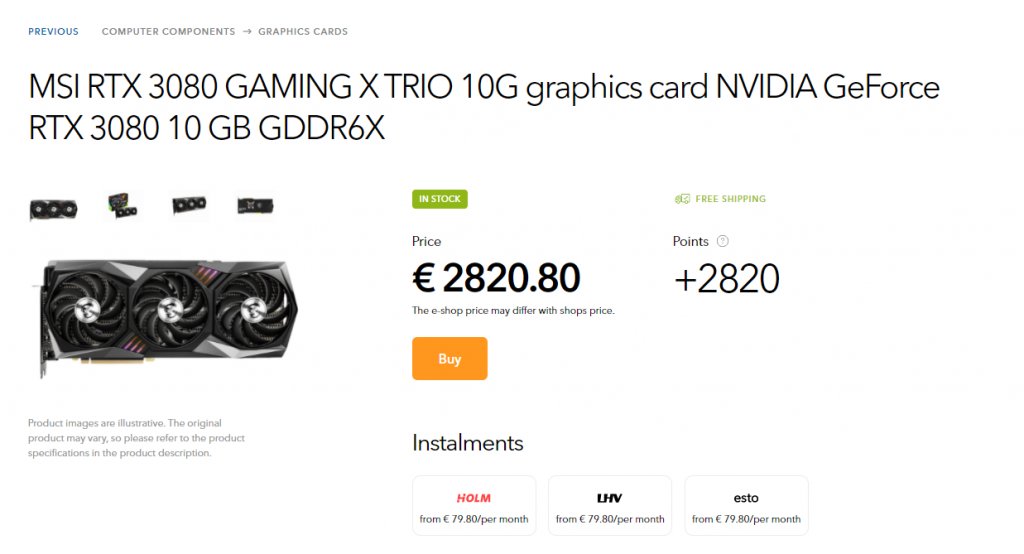 In my local shops, with an MSRP of $749, the MSI RTX 3080 cost $3,434 ( €2820). Which is 10 times more than I paid for my RX 580 back in the days.
Who the hell would buy a video card of the price of a used car?
Definitely, not me. But why it happened? The answer is simple – Bitcoin. That crypto giant just jumped up to $60 000 for 1 BTC.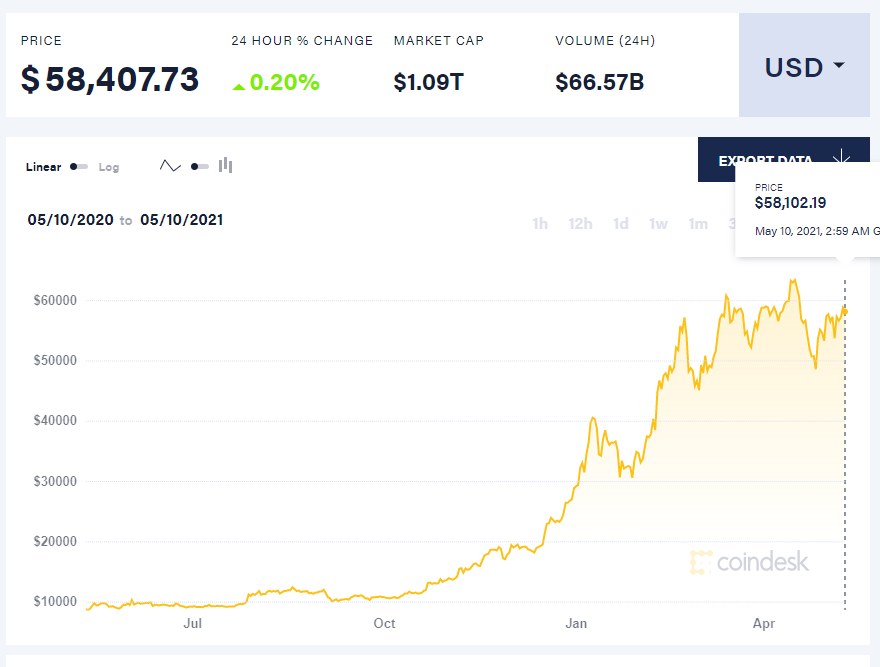 All make sense now. Who wouldn't buy a 3080 for $749 if mining would cover the cost of GPU in less than 2 months? ( 51 days, to be precise)
Here is GPU mining profitability information from https://www.nicehash.com/:
| | |
| --- | --- |
| MODEL | NET PROFIT |
| NVIDIA RTX 3090 | 18.23 USD/day |
| NVIDIA RTX 3080 | 14.60 USD/day |
| AMD Radeon VII | 13.68 USD/day |
| AMD RX 6800 XT 16GB | 9.72 USD/day |
| AMD RX 6900 XT 16GB | 9.64 USD/day |
| AMD RX 6800 16GB | 9.61 USD/day |
| NVIDIA RTX 3060 Ti | 9.20 USD/day |
| NVIDIA RTX 3070 | 9.19 USD/day |
| NVIDIA RTX 2080 Ti | 9.00 USD/day |
| AMD RX 5700 XT 8GB | 8.30 USD/day |
| AMD RX 5700 8GB | 8.11 USD/day |
| NVIDIA RTX 3060 | 7.45 USD/day |
Top graphic cards mining profitability
The happy owners of Nvidia RTX 3090 can earn $565 monthly on mining, with an MSRP price of $1,499. Of course, miners bought all available flagman cards.
I decided to lower my appetite and find RTX 3070 for the lowest possible price.
Asus ROG RTX 3070 pricing
The MSRP price of RTX 3070 card is just $499, but due to miners real price is x2.5 of MSRP.
The MSRP price of exactly Asus ROG RTX 3070 8GB OC Gaming is $634.
Here are March 2021 stats from https://www.theverge.com/
Item
Retail price
Street price (Dec 2020)
Street price (Mar 2021)
Current value
Nvidia RTX 3090
$1,499
$2,076
$2,985
1.99x
Nvidia RTX 3080
$699
$1,227
$2,160
3.09x
Nvidia RTX 3070
$499
$819
$1,239
2.48x
Nvidia RTX 3060 Ti
$399
$675
$1,226
3.07x
Nvidia RTX 3060
$329
N/A
$828
2.5x
AMD RX 6900 XT
$999
Did not check
$1,841
1.84x
AMD RX 6800 XT
$649
$1,232
$1,555
2.4x
AMD RX 6800
$579
$841
$1,331
2.3x
AMD RX 6700 XT
$479
N/A
$1,169
2.4x
PS5 (disc)
$499
$1,024
$833
1.66x
PS5 (digital)
$399
$990
$754
1.88x
Xbox Series X
$499
$835
$805
1.61x
Xbox Series S
$299
$471
$432
1.45x
After a few days of searching, I found a guy who delivers cards from Finland where honest shop owners try to keep prices low, giving only 1 card per person, avoiding re-sellers. For the exchange, we met outside of the city, almost in the forest, like real smugglers.
Finally, and I became a proud owner of Asus ROG Strix RTX 3070 8GB OC Gaming for "just" $1520 ( €1250). I decided that as owner of TechnoBurst, I just have to make a Asus RTX 3070 Review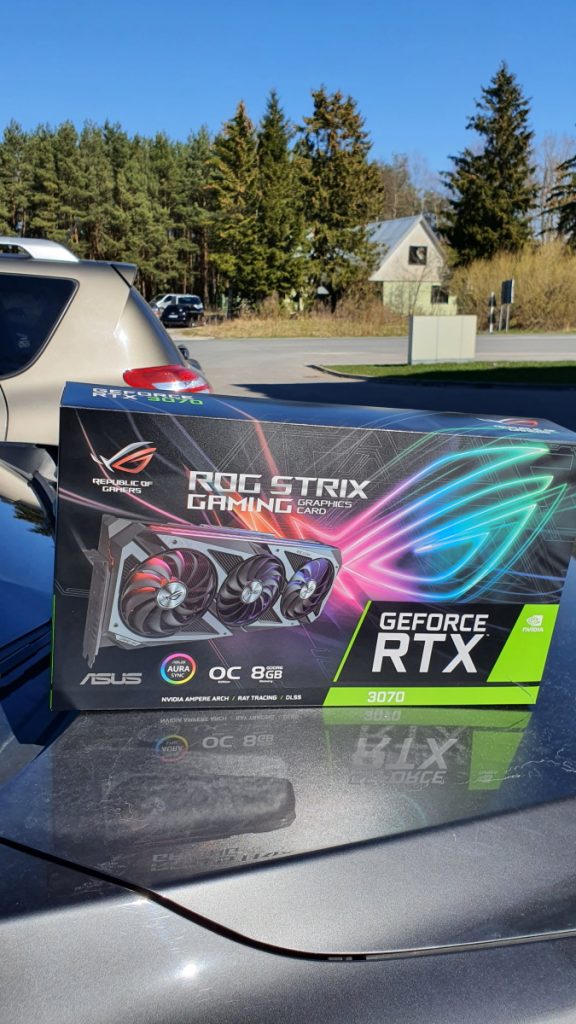 3. Asus Rog 3070 Strix 8GB OC Specs
Tech specs
Technical specs from Asus official website:
Graphic Engine
NVIDIA® GeForce RTX™ 3070
Bus Standard
PCI Express 4.0
OpenGL
OpenGL®4.6
Video Memory
8GB GDDR6
Engine Clock
OC Mode – 1935 MHz (Boost Clock) Gaming Mode – 1905 MHz (Boost Clock)
CUDA Core
5888
Memory Speed
14 Gbps
Memory Interface
256-bit
Resolution
Digital Max Resolution 7680 x 4320
Interface

Yes x 2 (Native HDMI 2.1)
Yes x 3 (Native DisplayPort 1.4a)
HDCP Support Yes (2.3)
Maximum Display Support
4
NVlink/ Crossfire Support
No
Accessories
1 x ROG Velcro Hook & Loop
1 x ROG ruler
1 x Collection card
1 x Speedsetup manual
Software
ASUS GPU Tweak II & GeForce Game Ready Driver & Studio Driver: please download all software from the support site.
Dimensions
12.53 " x 5.51 " x 2.27 " Inch
31.85 x 14.01 x 5.78 Centimeter
Recommended PSU
*750W
Power Connectors
2 x 8-pin
Slot
2.9 Slot
*Asus set recommended PSU with overclocking in mind. I have this card installed on an old PC with just 500W and it works in games just fine.
Marketing features
Asus claim Rog Strix RTX 3070 has these features:
NVIDIA Ampere Streaming Multiprocessors
2nd Generation RT Cores
3rd Generation Tensor Cores
Axial-tech Fan Design
2.9-slot design
Super Alloy Power II
GPU Tweak II
More details on images below.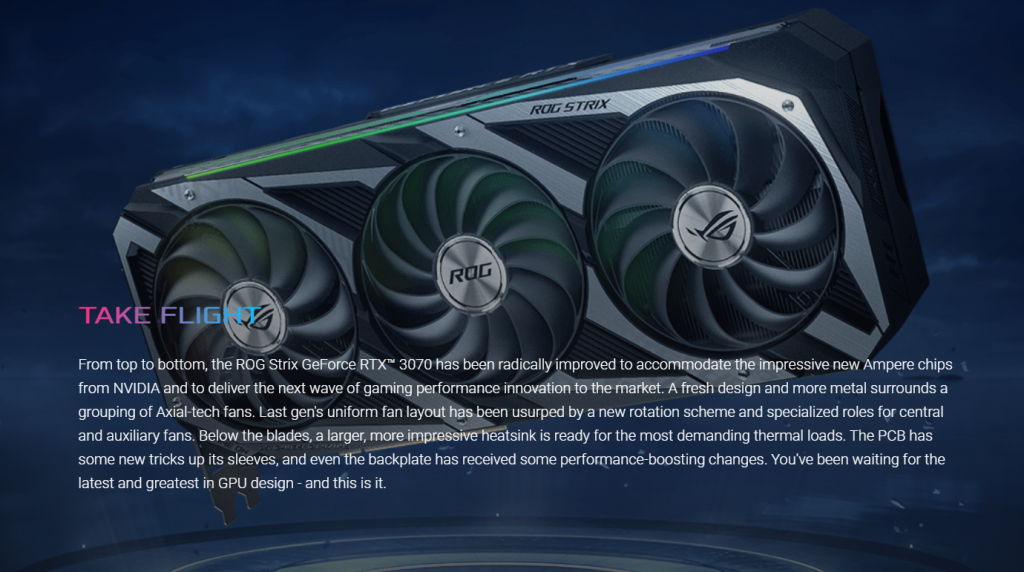 4. Asus ROG 3070 Strix OC Detailed Look
Lets make some unboxing and see what's inside.
Package and unboxing
From outside, Asus ROG 3070 box looks pretty much the same as any other brand of Nvidia cards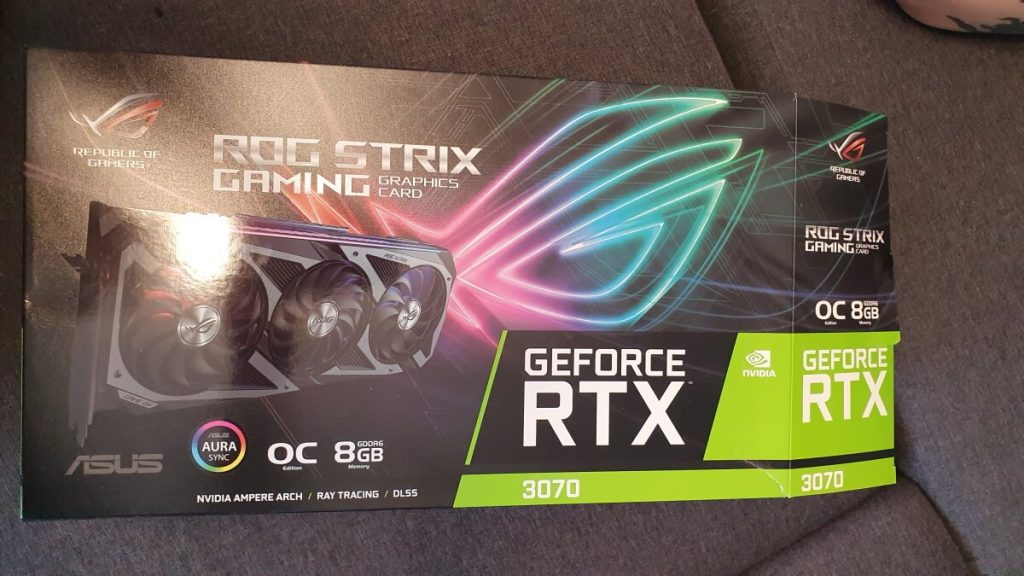 Inside we see another box, to me feel and look better.
In box, there is video card and some accessories.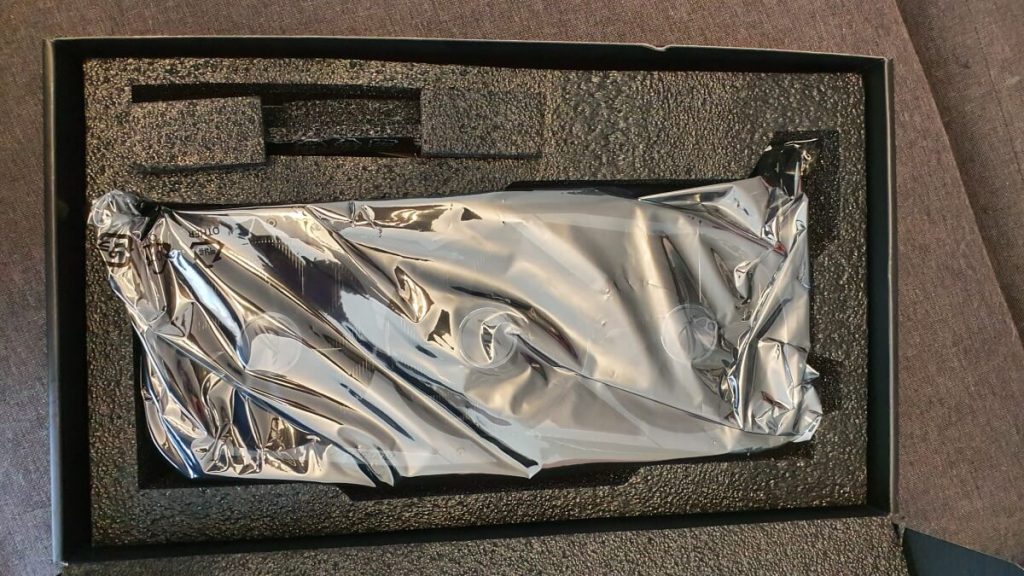 It's known Asus put their coordinates on this straightedge. Now I can find them, if something happens with the device.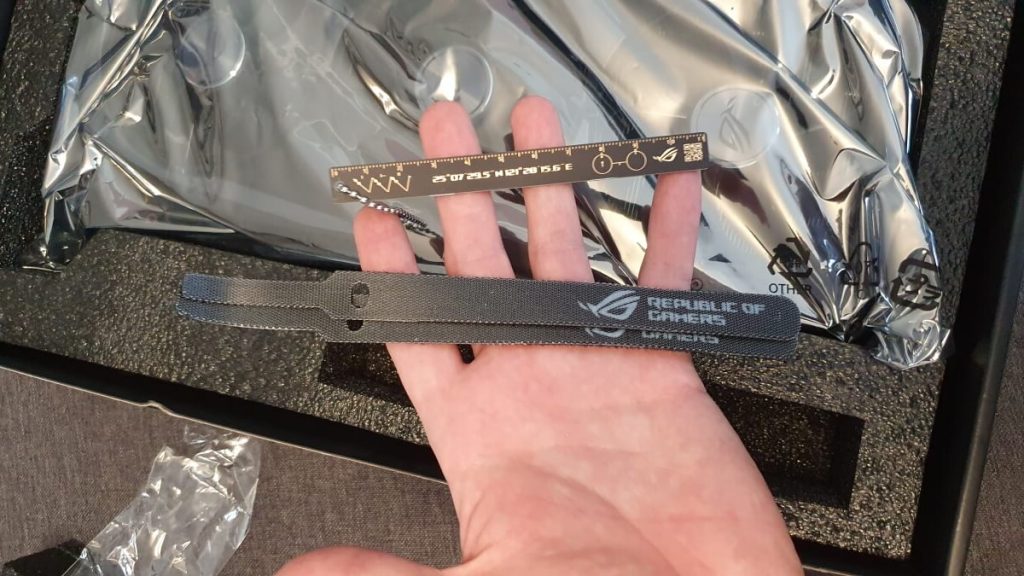 What I didn't expect – the size. New-gen GeForce RTX 30 Series graphics cards are huge. Make sure Asus Rog 3070 will fit your PC, here are the dimensions:
12.53 " x 5.51 " x 2.27 " Inch
31.85 x 14.01 x 5.78 Centimeter
Look and size
Asus ROG card has Q mode / P mode tumbler, which responsible for Quite and Power modes. In silent mode fans have lower RPM.
Asus ROG 3070 is bigger and heavier than my old MSI 580 RX.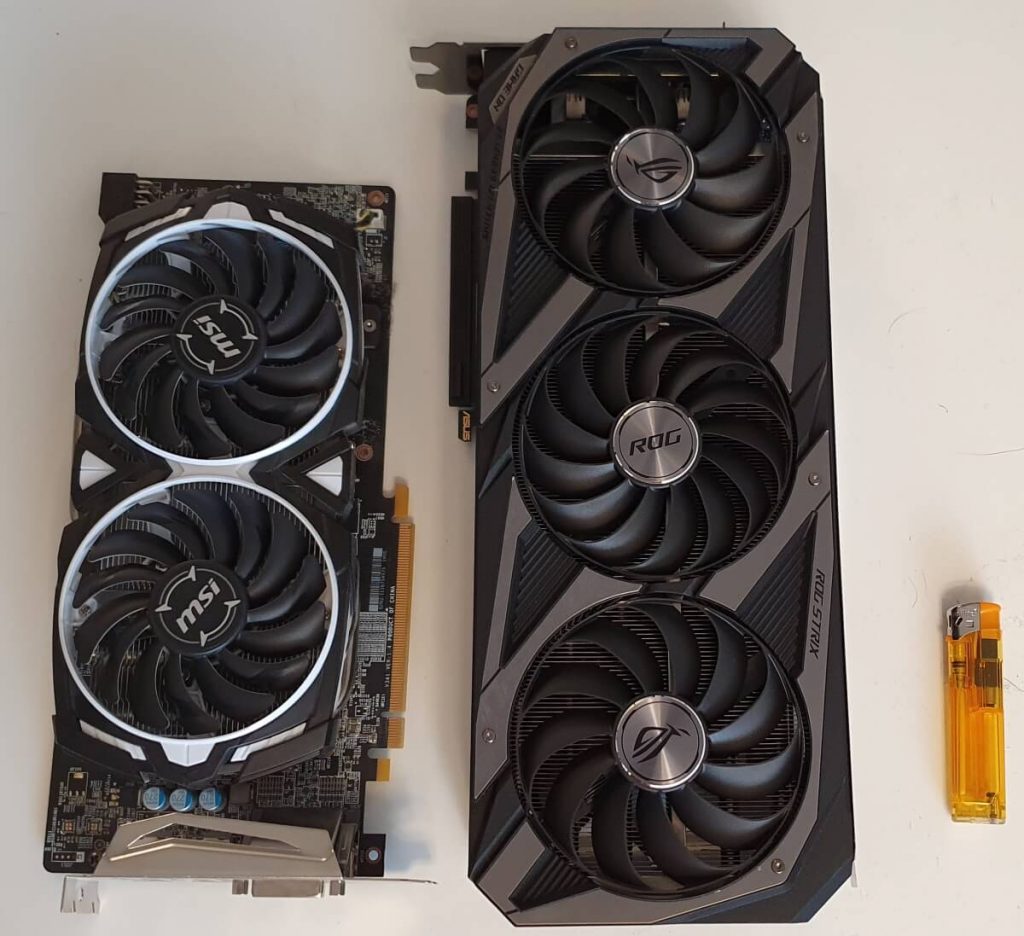 Interface
The card has 2 HDMI 2.1 and 3 DisplayPort 1.4a inputs, so a total of 5 inputs. However, at the same time, it can handle only 4 monitors.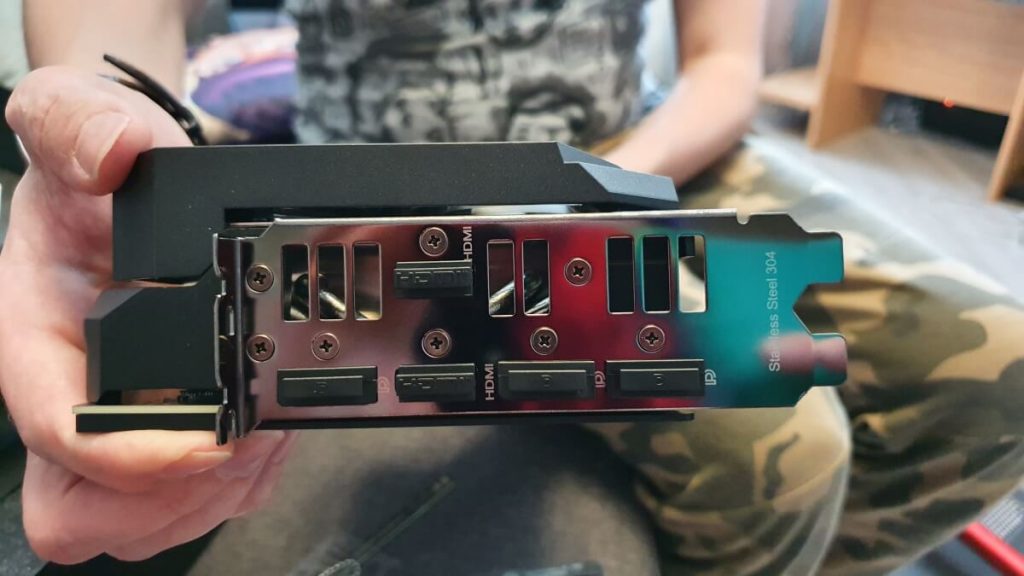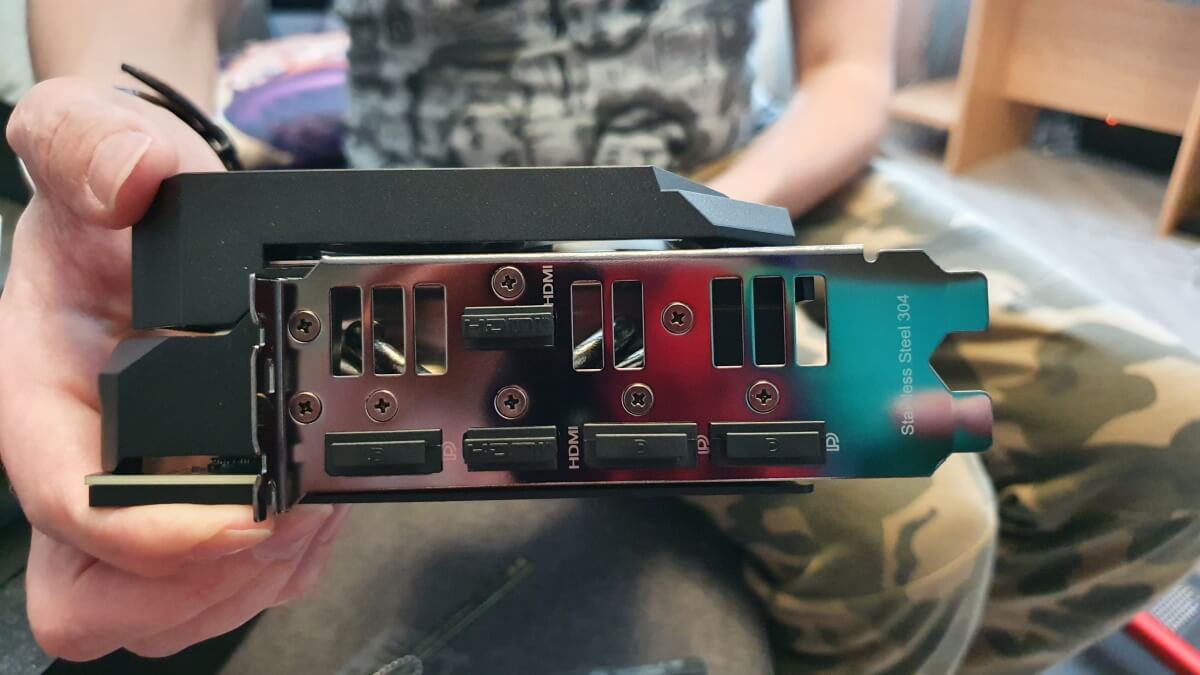 Look in PC
I was not sure, but 3070 easily fit my old Mars Gaming MC3 ATX. Even a few centimeters of extra space left.
I ordered new PC, which would be better fir for RTX 3070, but so far I used old one with i5-6500 and 500w PSU. It launched without any problems. I know there is an option to enable different RGB lights, but I will keep this untouched until I get a new PC.
5. Benchmarks
Here are some stats of performance benchmarks.
I am actually a bit afraid to load it 100% for benchmarks like 3dmarks, because of 500W PSU, but at least 1 performance test I did:
I will test with more apps soon, when I get new PC, but so far just watch results from https://www.gpu-monkey.com/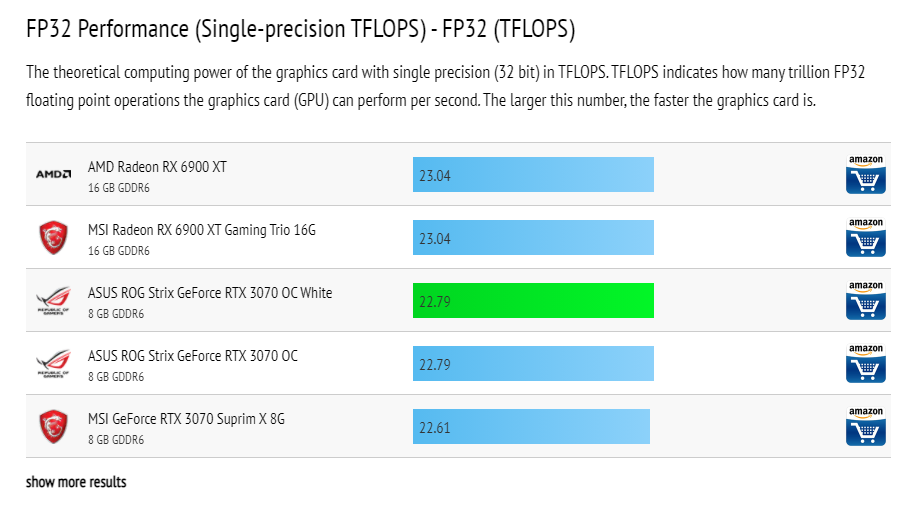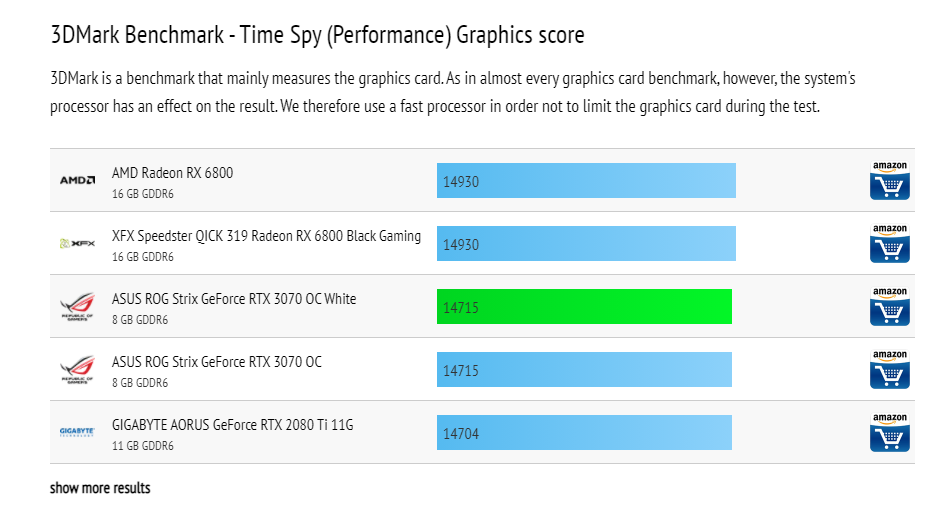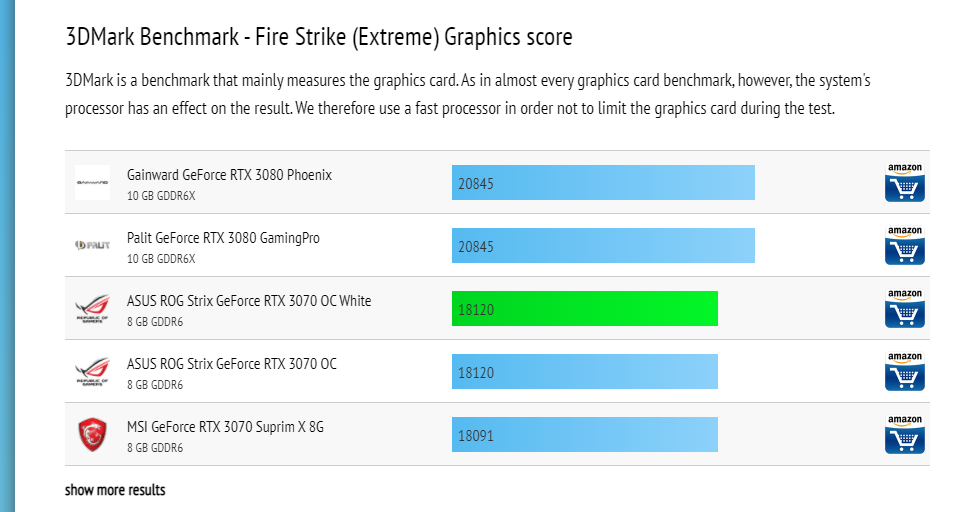 6. Game Performance
RTX 3070 average game performance
Here is average performance for RTX 3070 cards. Hovewer, we have Asus ROG Strix OC model, which perfoms best across all RTX 3070 cards.
| | | | |
| --- | --- | --- | --- |
| 1440p gaming | RTX 3080 (avg. fps) | RTX 3070 (avg. fps) | RTX 2080 (avg. fps) |
| Microsoft Flight Simulator | 48 | 47 | 42 |
| Control | 98 | 77 | 61 |
| Death Stranding | 164 | 135 | 102 |
| Far Cry New Dawn | 144 | 136 | 118 |
| Gears 5 | 125 | 102 | 78 |
| Metro Exodus | 174 | 136 | 105 |
| Red Dead Redemption 2 | 129 | 102 | 82 |
| Shadow of the Tomb Raider | 130 | 107 | 84 |
| Total War Saga: Troy | 105 | 82 | 67 |
DLSS ( Deep Learning Super Sampling)
RTX 3070 cards has new technology – DLSS ( Deep Learning Super Sampling) AI acceleration. DLSS is exclusive Nvidia technology which boost FPS while keeping image quality on top level with help of AI ( artificial intelligence ).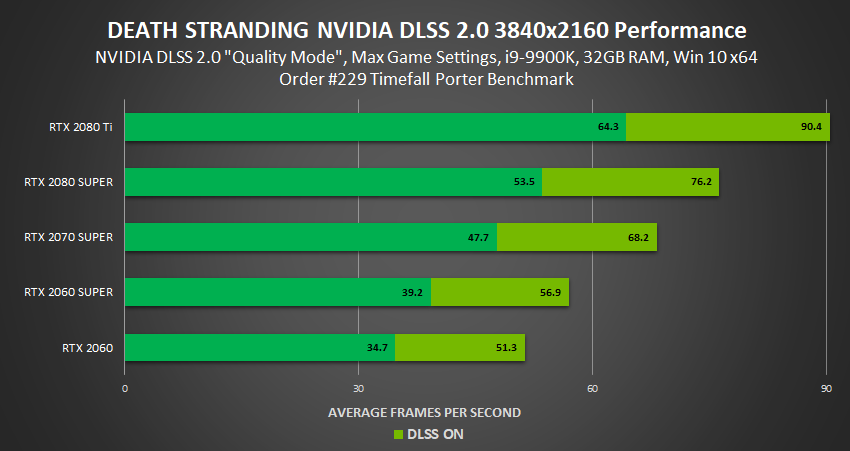 You can read more about DLSS on the official Nvidia website or watch this video:
Asus ROG Strix RTX 3070 8GB Gaming OC FPS performance in games
Asus ROG Strix RTX 3070 is an excellent card for 1440p 144Hz gaming.
I have exactly a 1440p 144Hz gaming monitor, so I tested a few games and feel very happy with the results.
You can read more about monitors for RTX 3070 here https://technoburst.com/best-monitors-for-rtx-3070/
Back to performance, in 1440p ( 2560 x 1440 resolution) Asus ROG Strix RTX 3070 provides 100+ FPS with ultra in any new AAA games like Cyberpunk, Battlefield 5, Far Cry 5, etc., which is perfect for gaming.
For 4k UHD resolution, AAA games would run mostly with 60 FPS, so you can still play most AAA games but probably would need to sacrifice some settings for a comfort play.
Here are results I got with FRAPs in my old PC build
CPU: i5-6500
Motherboard: MSI B150GAMINGM3
RAM: Corsair ValueSelect 16GB 2133MHz DDR4 CL15 (8GB x 2)
PSU: Fortron FSP ATX 2.3 HEXA+ 500W HE-500+
SSD: Samsung SSD 850 EVO 250GB SATA III
GPU: Asus ROG Strix RTX 3070 8GB OC Gaming
DOOM Eternal [2020] FPS benchmark ( 1440p, ultra, HDR)
| | | |
| --- | --- | --- |
| Min FPS | Max FPS | Avg FPS |
| 124 | 147 | 140.233 |
Tomb Raider [2020] FPS benchmark ( 1440p, ultra)
| | | |
| --- | --- | --- |
| Min FPS | Max FPS | Avg FPS |
| 132 | 145 | 142.967 |
Metro 2033 [2010] FPS benchmark ( 1440p, ultra)
| | | |
| --- | --- | --- |
| Min FPS | Max FPS | Avg FPS |
| 117 | 164 | 139.7 |
Conclusion
Asus ROG Strix RTX 3070 is a perfect video card for gaming in 1440p, you will get 120+ FPS with ultra settings.
4k would make you lower some settings to play with good FPS. So if you have 4k monitor, I would recommend 3080 or 3090 models.
1080p, obviously, would be handled by RTX 3070 without any issues.
7. Asus ROG Strix RTX 3070 PC Builds
You can read detailed articles about PC parts to pair with RTX 3070 here:
The best overall RTX 3070 build (top-tier) [$2220]
I spend several days to find the best build for my new RTX 3070 card. For me everything matters:
Performance – next upgrade planned in 5 years, so I want to make sure I would not have any freezes until that.
Silence – I like listening to music and watching movies on my PC, so for the best audio experience PC need to be silent.
Quality – by that I mean I am ready to overpay for good quality parts to make sure my PC would run without any issues whole 5 years and I can re-sell it later. So all parts are chosen only with brand reputation and many positive feedbacks
Beauty and aesthetic – ok, this is the least important factor, but still, when you spend over $2k on a PC you want to enjoy looking at it, let it be the nice accessory of your room. Aura RGB lights, pc case with matte glass, etc.
Here is the best top quality build for RTX 3070 I ordered myself:
The cost for that build in local shop for me was 1826 € or $2220 without GPU.
With GPU I paid $2220 + $1520 = $3740 for a best RTX 3070 build.
Price will vary depends on shop and bitcoin correlations 🙂
CPU: AMD Ryzen 9 5900X
Sale
AMD Ryzen 9 5900X 12-core, 24-Thread Unlocked Desktop Processor
The world's best gaming desktop processor, with 12 cores and 24 processing threads
Can deliver elite 100-plus FPS performance in the world's most popular games
Cooler not included, high-performance cooler recommended. Max Temperature- 90°C
4.8 GHz Max Boost, unlocked for overclocking, 70 MB of cache, DDR-3200 support
For gaming, Ryzen 5 5600x would be just enough. But if you not only play 90% of the time, Ryzen 9 5900x will outperform any CPU for mixed-use. Just because it has 12 cores, which will rock in multitasking.
CPU cooler: NZXT Kraken X63 RGB
NZXT Kraken X63 280mm - RL-KRX63-01 - AIO RGB CPU Liquid Cooler -...
Design: With a re-designed cap and larger infinity mirror ring LED, the new Kraken X allows for adjusting the...
Bigger And Brighter: 10% bigger infinitty mirror cap allows for more vivid RGB and a rotating cap accommodates...
Better Control: Full CAM integration allows you to manage your Kraken's performance with precision
Incredible Performance: The Aer P radiator fans feature a chamfered intake and fluid dynamic bearing that...
It's simply one of the best AIO Liquid Cooler with RGB on market. Will help to reduce noise and add cool RGB.
Memory: CORSAIR VENGEANCE RGB PRO 32GB 4x8GB DDR4 3600MHz 16CL
Corsair Vengeance RGB Pro 32GB (4x8GB) DDR4 3600 (PC4-28800) C16...
High performance DDR4 memory illuminates your system with vivid, animated lighting from ten ultra-bright,...
Take control with CORSAIR iCUE software and synchronize lighting across all your CORSAIR iCUE compatible...
Customize lighting profiles with millions of different patterns and colors, or create your own in CORSAIR iCUE...
Compatible with Intel and AMD DDR4 motherboards.
Corsair Vengeance RGB PRO is the top 1 memory ram in most PC building reviews. I have checked a few reviews on youtube and found out 3600MHz 16CL are the best parameters for gaming. 4x8GB also better than 1 32GB.
4000Mhz 16CL would be better, but it is hard to find ( in local shops I have only 18CL) and would be much more expensive for just 1-3 FPS in some games.
SSD: Western Digital WD Black 1TB SN850 NVMe PCie 4.0
Sale
WD_BLACK 1TB SN850 NVMe Internal Gaming SSD Solid State Drive -...
Next-gen PCIe Gen4 technology optimized for top-tier gaming (not intended for NAS or server environments)
Irrationally fast read/write speeds up to 7000/5300MB/s (1TB model) and up to 1,000,000 IOPS (1TB and 2TB...
Up to 2TB capacity to hold your favorite battle-ready games
Downloadable WD_BLACK Dashboard software to customize and control your gaming experience
Simply best speed SSD on market right now. With PCIe Gen4 x4 it is able to get extremely high performance:
Sequential Read Performance: 7000MB/s
Sequential Write Performance: 5300MB/s
Motherboard: ASUS ROG Strix B550-F Gaming (WiFi 6)
Sale
ASUS ROG Strix B550-F Gaming (WiFi 6) AMD AM4 Zen 3 Ryzen 5000 &...
Cutting edge gaming motherboard: with AMD AM4 socket, it is a perfect pairing for Zen 3 Ryzen 5000 & 3rd Gen...
Faster memory: 4 memory slots support dual channel DDR4 memory up to 128 GB, with ASUS OptiMem enabling higher...
Blazing data transmission speeds: Two M.2 slots, including the latest PCIe 4.0, provide maximum storage...
High-performance gaming networking: Onboard WiFi 6 (802.11ax) and 2.5 Gb Ethernet for exceptionally fast and...
I pick Asus ROG Strix B550-F card because it is perfect combo with Asus ROG Strix RTX 3070.
B550 chipset supports PCIe Gen4 which is important for both GPU and SSD to perform at maximum possible speed.
Aura RGB will sync with GPU RGB.
B550 chipset will support full features of new 5000 gen Ryzen CPU.
PSU: Seasonic PRIME – 700W – 80+Titanium Fanless
Sale
Seasonic Prime 700 Titanium SSR-700TL 700W 80+ Titanium ATX12V &...
FANLESS DESIGN - Silent operation does not only provide a more pleasant working environment but also results...
MICRO TOLERANCE LOAD REGULATION (under 0.5 %): This impressive electrical performance and stability makes this...
FULL MODULAR - Use only the cables you need to reduce clutter and improve airflow for a better ventilated...
80 PLUS TITANIUM - Less energy gets wasted during power conversion; Cut down your electricity usage and be...
Technology did a jump since I built my last PC. I was surprised to see PSU totally without fans, completely silent. Yep, it is more expensive, but I am ready to pay extra $100-$150 for a years of silent PC.
I picked 700W because I am not going to overclock my PC. But if you want, better to buy Seasonic PRIME TX-850, 850W 80+ Titanium.
If you are OK with little noise, you can change it to any 700-850W GOLD 80+ PSU. For example, NZXT C750 – 750 Watt PSU – 80+ Gold Certified would be cheaper.
GPU: Asus ROG Strix RTX 3070 8GB OC
No products found.
Obviously, Asus ROG Strix RTX 3070 GPU. But at the moment of writing this post, there are no such GPUs in amazon.
You can take ASUS TUF Gaming NVIDIA GeForce RTX 3070 OC too, it is a good video card too. Just right now it is not available too.
I recommend to check local stores or buy any brand's RTX 3070 which is available on Amazon
The best value RTX 3070 gaming PC build (less fancy top-tier) [$1073]
You can build a top-quality PC with the best performance for gaming and top-quality parts if you sacrifice complete silence and fancy RGB lights.
Here is best value top-tier build with RTX 3070:
The total cost of all PC parts except GPU would be $1073. With GPU would be $1073+ $1534 = $2607.
Nice 50% saving on PC parts, which will result in only a few lower FPS in games. We just cut RGB lights, AIO Liquid Cooler, Pcie 4gen to 3gen. All of these don't affect gaming much.
The best budget RTX 3070 gaming PC build [$781]
This is the lowest possible price for gaming PC parts for your RTX 3070. The parts listed here are still good enough for gaming. The CPU would have more power consumption, higher temperature, budget RAM may lower a few FPS, but you will still able you play AAA games on ultra settings comfortably.
Main changes comparing to previous more expensive build are:
CPU change from Ryzen to Intel – intel i5-11600K is actually the best value choice now on market. The only disadvantage is the power consumption of 125W and high temperature. For intel 80C is normal operational working temperature.
Simple, cheap, but solid CPU cooler. Intel has good cheap options.
16GB ram instead of 32GB – right now 16GB is enough even for AAA games. You can easily buy another 16GB later if needed.
Intel socket motherboard – we changed the CPU, so need a different motherboard. Happily, there is a cheap ASUS Prime B560-Plus motherboard with all the needed features.
As you see, nothing really wrong with this build, but the cost is only $781, which is almost $300 cheaper as previous build.
P.S. A tip, buy i5-11600kf if you could find it for a lower price. It is the same performance CPU, just without an integrated video chip, which you anyway don't need.
8. Final notes and conclusion
Asus ROG Strix RTX 3070 8GB OC is an excellent card for gaming if you have a 1080p or 1440p monitor. It will serve you well in AAA games for a few years without any problems.
However, if you gonna play in 4k soon, it would be better to look for RTX 3080. 3070 can handle 4k too, but not on ultra-performance.
Unfortunately, due to bitcoin boom, it is impossible to find RTX 3070 video card anywhere close to MSRP $499 price. Hope this situation would become better soon.
If your budget can allow it, Asus ROG Strix RTX 3070 8GB OC would be a superior choice.
---
9. FAQ
How the Asus 3070 cost?
The MSRP price of Asus ROG RTX 3070 8GB OC Gaming is $634. Hovewer, due to GPU shortage, real price is above $1200.
Is Rog Strix worth it?
Depends on what you want. If you are hardcore gamer who love to overclock and get maximum from PC performance, then yes – RoG Strix worth it. If you are casual gamer, you can take any decent brand 3070 RTX card.
How do you get an RTX 3070?
Check Amazon and newEgg. If nothing there, then check your local shops. Most probably your local shop wioll have RTX 3070 card, but with big overprice.
Which 3070 should I get?
Zotac NVIDIA GeForce RTX 3070 Twin Edge OC or Asus ROG Strix RTX 3070 8GB OC Gaming are recomennded for the best build quality and overclocking possibilities.
Why are graphics cards out of stock?
GPU shortage is caused by bitcoin boom, people earn so big money on mining in 2021, so they buy all good GPUs not looking at price.
Why are GPU prices so high 2021?
Again, because of bitcoin boom, miners buy all available good GPUs. The supply and demand model make price as high as miners can pay, until demand meet supply.
Will graphics card prices drop in 2021?
There are a few factors which may bring prices down:
a big drop of bitcoin price, which already happened a few times
Nvidia may limit crypto-mining on new video cards
Intel is going to launch new discrete graphics cards to compete with Nvidia and AMD
What is the best budget graphics card 2021?
Best budget card 2021 is Radeon RX 5500 XT. A bit cheaper, but more power consuming analog is Radeon RX 580 that shows similar performance, depends on game.
I just had RX 580 myself and can prove comfort gaming at 1080p on high/ultra settings and medium/high graphics settings for 1440p.
Is Asus ROG Strix 8g good for gaming?
Yes, Asus Rog Strix 8GB OC is totally good for gaming. It shows a bit better performance than other 3070 cards because it is slightly overclocked by default, so you can play even on 4k resolution if you adjust some settings. Gaming on 1440p is totally fine on ultra.
What CPU should I pair with RTX 3070?
I would recommend following CPUs to pair with RTX 3070:
Ryzen 9 5900x if money is not a problem ( best for mixed-use). Maybe it's a bit overkill, but no need to upgrade later.
Ryzen 5 5600x (best CPU for gaming)
Intel Core i5-11600K if you are ok with high temperature and don't want to overspend. ( best budget pick, best value CPU)
It does not mean you can't use other processors. Moreover, for gaming GPU is much more important, than CPU, so almost any $200+ CPU will be fine. But if you use other apps between games, I would recommend buying one from the list above, they are very good.