Are you a big-time i7 11700K fan? Well, why shouldn't you be? It is crazily affordable and wins over the i9 11900K in the single-thread tests.
On top of this great performance comes the TDP peak of 150W. Yeah, I am thinking the same thing as you are! These statistics mean a hell of a lot of heat. The CPU doesn't come with an included cooler, and it might get tricky for some of us to choose the best CPU Cooler in the market!
No stress, I am here to help with a comprehensive buying guide of the Best CPU Coolers for i7 11700K! Read on to know more
Quick Buying Guide
I shall now be dictating a few things that you can keep in mind while deciding on the CPU Cooler you need! These factors are essential and generally make or break our decision.
TDP or Thermal Design Power
Well, I can't say it enough, but TDP matters the most when it comes to CPU Cooler. On a cooler buying spree? Always check for the handleable TDP Value at the back of the product.
Now, you may think, what is this TDP? Thermal design power refers to the maximum heat produced by a processor at its peak performance.
Now, if the cooler can handle the heat given off by the processor, you're winning! If not, then my friend, your money might have gone to waste, and I wouldn't want that for you!
So, make it a rule to check the TDP value of both your CPU and the value your CPU cooler can handle.
Cooler Type
The market has an array of CPU coolers. They might look the same from the top, but let me tell you, they function very differently!
The types are air coolers or Liquid Coolers broadly. Another type is the Open Loop Cooler.
Air Coolers
Air Coolers are the best fit for a low budget and a good investment. The only reason to pick Air coolers is because of the fewer moving parts and easy installation!
They mainly have metal heatsinks and fans in their composition. A variety of shapes, sizes, and TDP-based air coolers are there in the market!
Liquid Coolers
If you can spend a little extra buck on your CPU Cooler, I will surely recommend Liquid Coolers. Even though they are expensive, you get the best of features.
They work at maximum capacity too with quiet performance! It is in contrast with the functioning of air coolers.
You won't have to maintain coolant levels for liquid coolers, and the cooling method will be entirely water-based. With water, you might be stuck on whether there would be any leakage or not. So, guys, no worries, these coolers are leak-resistant!
Additionally, the ease of installation is a bright feature. You can also invest in some overclocking!
Open Loop Coolers
Open Loop Coolers are pricey bets. But the coolest part is that you get top-class results and great cooling abilities.
On the negative side, the whole build is very complicated and complex. Understanding the specifications of Open Loop Coolers might take some time!
Socket Compatibility
Next up, we have the factor of CPU Socket compatibility. Imagine you bought a cooler, and now it isn't able to fit the socket of your CPU. Such a sad story.
That is why you must always check for a model that can fit your CPU in the best and most effective manner.
RAM Compatibility
RAM compatibility? It sounds like a term you all might have heard. RAM compatibility is an essential part of purchasing a CPU Cooler. The standard RAM Modules that are around 33 mm go well with most CPU Coolers.
RAM with tall heat spreaders might be the cause of an issue. These RAM modules with greater heights and big cooler models may cause heat sinking. The fan might even overhang RAM Slots.
To prevent such mishaps, do check the compatibility of RAM with your cooler.
Motherboard
So we talked about RAM and Socket Compatibility; what's next? The motherboard. Choosing a cooler that can fit the motherboard is essential.
But the question arises how we can find that out? Go online and find some motherboard compatibility charts! You will be surprised to know the number of them available just to help you make a more balanced decision.
Cooler Height and Case Compatibility
Both the cooler height and case compatibility need to be aligned to have a great CPU cooler fit. You will have to figure out the clearance space for the CPU Cooler. Once you know that, go for a cooler with a similar height or clearance.
Noise
Does a quiet performance impress you? Do you want a great cooling performance? I am hoping the answer to both these questions is a big yes.
Now that we have our priorities set, choosing a cooler becomes an easy job! Generally, a high-performance cooler has low-speed fans and thus less noise. On the other hand, a maxed-out cooler shall have high-speed fans and produce noise when overclocking the CPU.
Overclocking
This term was mentioned previously as well! Overclocking means making the CPU work way faster than the already set limits. High-profile coolers will have the ability to sustain overclocking. Low-profile ones only work with the lower TDP CPUs.
I am also attaching a link to a video highlighting some main features to be thoughtful about while making that perfect CPU purchase! Interested? Click on the link below.
Review of the 4 Best CPU Coolers for Intel Core i7 11700K
Noctua NH-D15: Best Overall
| | |
| --- | --- |
| Specifications | |
| Dimensions | 5.91 x 6.34 x 6.5 inches |
| Cooling Method | Fan |
| Weight | 2.87 Pounds |
| Noise Levels | 24.6 dB |
| Material | Copper for the Base and heat pipes; Aluminium for cooling fins and soldered joints and nickel plating |
Noctua NH D-15 is genuinely the jack of all trades. Whether it's AMD Ryzen or Intel, Noctua chooses to win irrespective! But what makes this CPU cooler the great pick that it is?
Noctua NH D-15 comes with two NF-A15 140mm fans. Along with the fans, you get PWM support as well. Imagine these superior-quality fans performing at their best capacity with no noise! Sounds like a dream, right? Well, not so much for Noctua.
Noctua provides users with the quiet cooling they deserve through this model. The fan also has an automatic speed control. This feature provides the high efficiency required by the cooler.
I cannot skip design when talking about Noctua NH D-15! This CPU cooler has a great design with about six heat pipes and two fans. It also has a high-end NT H1 thermal paste and SecuForm2 mounting system to promote an easy installation.
On top of all these features, Noctua has been a trusted brand for many years. It has won about 250 awards and various recommendations from people all over the globe!
Conclusion
Noctua NH D-15 is a safe bet, in all honesty. Great features with a great performance. These two things rarely go wrong together. If you have been searching for a great CPU cooler for your Intel core processor, Noctua is a brand you should try at least once!
Sale
Noctua NH-D15: Best Overall
State-of-the-art dual-tower design with 6 heatpipes and 2 fans provides class-leading cooling performance for...
Successor of the classic NH-D14; more than 250 awards and recommendations from leading international hardware...
2 highly optimised NF-A15 140mm fans with PWM support and Low-Noise Adaptors for automatic speed control and...
Includes high-end NT-H1 thermal paste and SecuFirm2 mounting system for easy installation on Intel LGA1700...
Scythe Mugen 5 Rev B: Best Budget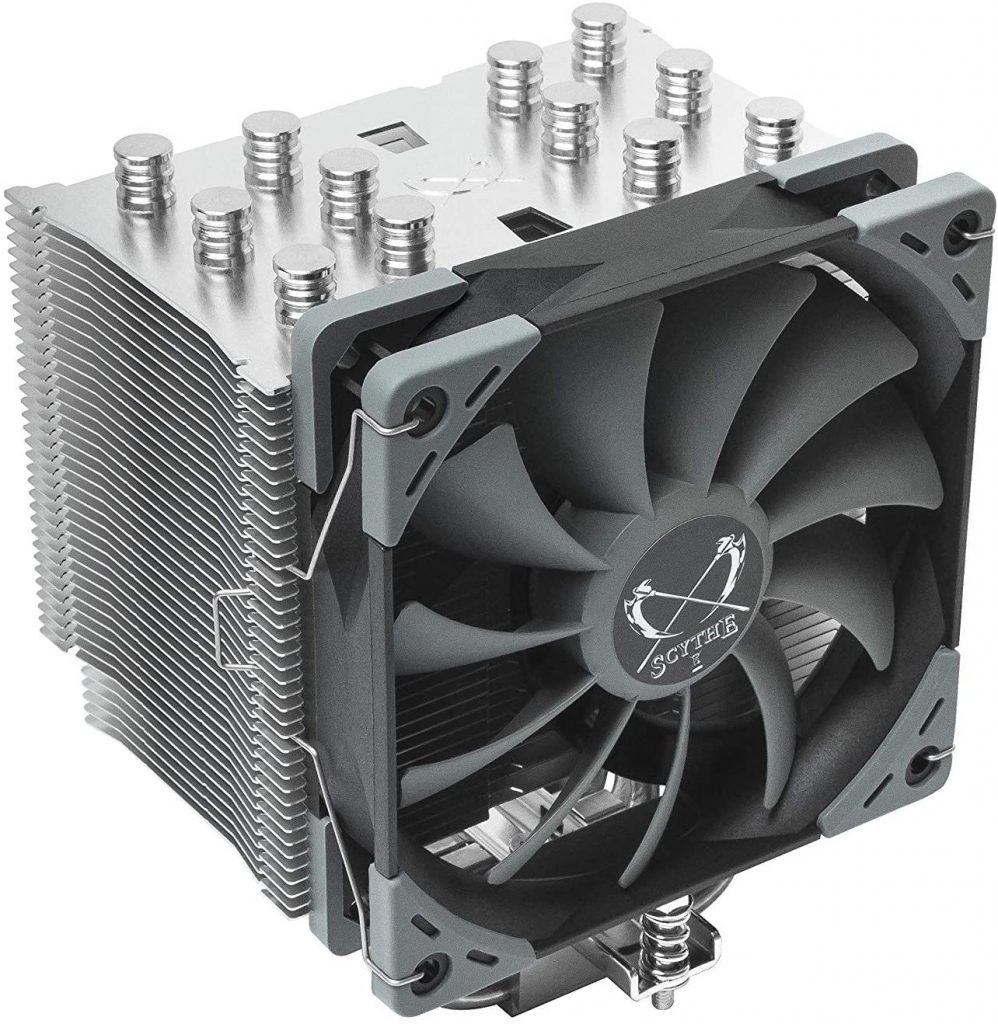 | | |
| --- | --- |
| Specifications | |
| Dimensions | 6.5 x 5.75 x 3.94 inches |
| Cooling Method | Air |
| Weight | 2.91 Pounds |
| Noise Levels | Quiet 120 MM Kaze Flex Fan |
| Material | Metal |
I have always been a fan of reasonably priced stuff! Well, who isn't? We all start to sweat when it comes to CPU coolers, knowing that it will be an expensive deal. What if I tell you that's not the case? And that you can get a CPU Cooler for less than $ 50?
Hahaha! I know you're surprised. Scythe Mugen 5 Rev B is the one for you. The price is extremely low, and the features are top-notch.
The 120 mm Kaze Flex Fan performs a variety of functions. It keeps care of the high airflow and static pressure. Along with that, the fans perform in a very quiet manner, even at a high capacity. With Mugen 5, you all can say goodbye to the noise!
There is an additional fan clip in the set too. That is given just in case users want another optional fan. These extra fans promise to give high performance and work in a push-pull configuration.
Just like Noctua, Scythe also provides users with a thermal compound paste. It is also highly compatible with both AMD Ryzen and Intel.
As far as CPU Socket compatibility is concerned, Scythe Mugen 5 wins hands down! Yes, we mean it. Scythe Mugen 5 Rev B boasts a spring-loaded mounting system. This system promotes a more easy and secure installation.
You will also get an asymmetrical design with the product. This design is a great help in RAM compatibility and unrestricted access to memory banks.
Conclusion
Life may be tough, but choosing an affordable CPU Cooler isn't. I recommend you go for the Scythe Mugen Rev 5. It is a great combination of reasonable prices and high-quality features. Sounds like a nice plan to me!
Scythe Mugen 5 Rev B: Best Budget
Classic 120mm tower design with high-quality copper base, 6 heat pipes, and a smooth copper base ensures...
Quiet 120mm Kaze Flex fan (Fluid Dynamic Bearing) for high airflow and static pressure with silent...
The asymmetrical heat sink layout provides full access to the front RAM slots. Cut-out fins on the back allow...
HPMS II(Hyper Precision Mounting System 2th Gen) is a secure and easy-to-install spring loaded mounting system...
Be quiet! Dark Rock Pro 4: Best Silent Air CPU Cooler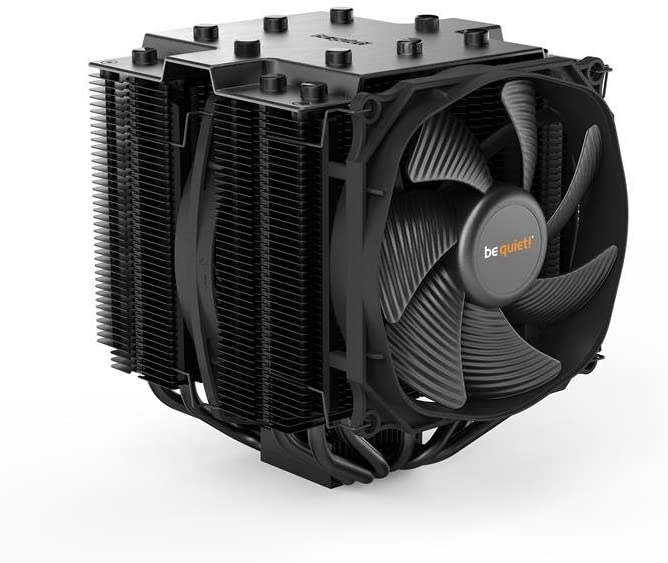 | | |
| --- | --- |
| Specifications | |
| Dimensions | 5.3 x 5.7 x 6.4 inches |
| Cooling Method | Fan |
| Weight | 2.49 Pounds |
| Noise Levels | 24.3 dB |
| Material | Copper |
Just like its name, this CPU cooler promises to give the quietest performance ever! The credit goes to the two virtually inaudible quiet-wing PWM fans. The sound levels for this CPU Cooler are extremely low (somewhere around 24.3 Db), with the highest fan speed possible.
This CPU Cooler boasts seven high-performance copper heat pipes. Along with these heat pipes, you get airflow-optimized cooling fins. It is an excellent fit for demanding workstations.
The design to be Quiet! Dark Rock Pro 4 CPU Cooler is pretty great. This German product's conception, quality control, and build are among the best in the market! The top cover for this cooler is made of brushed aluminum and has an overall diamond-cut finish.
Talking about other features, be quiet! Dark Rock Pro 4 CPU Cooler's front fan has a funnel-shaped frame on its front fan. The main purpose of this frame is to provide high air pressure. On top of it, the cooling performance of the cooler stands at 250W TDP, which is fantastic!
Be quiet! Dark Rock Pro 4 also has some cutouts that help in increased RAM Compatibility. Along with this, users get a black installation kit mounted from above. The kit makes the whole installation process as simple as possible.
And finally, coming to the best part, This CPU cooler has a three-year manufacturer's warranty. So the next time you plan on being finicky, rest assured your CPU cooler will work all fine.
Conclusion
If you are a fan of ultra-quiet CPU performances, be quiet! Dark Rock Pro 4 is the one for you! I feel it is a good fit of features, including a great build, high-quality structure, and durability.
Also, If you are someone who plays games on their PC for long hours and tends to overclock, this CPU Cooler is no short of a blessing!
Be quiet! Dark Rock Pro 4: Best Silent Air CPU Cooler
Socket compatibility AMD: AM5 / AM4
Socket compatibility Intel: 1700 / 1200 / 2066 / 1150 / 1151 / 1155 / 2011(-3) Square ILM
Two virtually inaudible silent Wings PWM fans
Funnel-shaped frame of the front fan for high air pressure
Arctic Liquid Freezer 11 AIO CPU Cooler: Best Overclocking Cooler
| | |
| --- | --- |
| Specifications | |
| Dimensions | 13.3 x 6.18 x 4.8 inches |
| Cooling Method | Water |
| Weight | 3.47 Pounds |
| Noise Levels | 0.3 sones |
| Material | Aluminum (Radiator), Copper, Micro-Skived-Fins (Cold Plate) |
Do you have a habit of overclocking your system? Are you a big-time gamer who spends long hours online? If you participate in either one of these habits, you will know how big of an issue it is. It becomes difficult to find CPU Coolers that match your requirements.
Well, All hail the Arctic Liquid Freezer AIO CPU cooler to rectify all these worries. This CPU Cooler promises to be way cooler than the other options in the market. It has a more efficient cool plate, pump, and radiator. These components make it a true blue AIO Cpu Cooler.
The CPU Cooler has an additional 40MM VRM Fan attached near the pump. This fan provides cooling to the base and the voltage transformer. The lower voltage Regulator temperature stands at 15 degrees Celsius, which is pretty great.
Cables are incredibly managed in the Arctic CPU Cooler. The PWM Cable of the fans is put together in sleeved tubing! Overall there is essentially a single cable that users can see on the top of the pump to the motherboard.
This cooler is a huge relief for all those sick and tired of the cable mess in CPU Coolers.
Another fantastic feature for this CPU cooler would have to have 80% less power consumption! Arctic brings across this new feature which genuinely makes their CPU cooler stand out.
Now whenever the pumps are idle, they clock down and thus consume way less power. The noise is also minimum whenever cooling isn't required.
A solid extended warranty backs the whole idea of the Arctic Liquid Freezer AIO CPU cooler. The company offers a six-year warranty from the day of purchase.
Users won't have to worry about refilling since the water loop is religiously sealed. It also has high-quality fiber-reinforced EPDM tubing!
Conclusion
If you are a gamer and have a habit of overclocking, this CPU Cooler might just be the solution for you. Arctic Liquid Freezer AIO CPU cooler is made to help users with heat dissipation and provide the best experience ever!
I am into gaming, and the cool plate of this CPU Cooler is a winner!
Sale
Arctic Liquid Freezer 11 AIO CPU Cooler: Best Overclocking Cooler
QUALITY CONTROL APPROVED: We have increased the quality assurance and quality control. The products have been...
LGA1700 COMPATIBILITY: The Liquid Freezer II 280 is compatible with Intel's new Alder Lake processors - Socket...
COOLER THAN OTHER AIO WATER COOLERS: The ARCTIC Liquid Freezer II has a more efficient cool plate, pump and...
15°C LOWER VOLTAGE REGULATOR TEMPERATURE: An additional 40 mm VRM fan (PWM controlled) next to pump can...
Wrap Up
This is it from my end, guys! My top 4 best CPU Coolers for i7-11700k. I picked these options after careful research. But if I have to choose one of the following, I would go for Noctua NH D-15.
There isn't one feature that Noctua doesn't have! It's the jack of all trades. Durable? Yes. Quiet? Yes. Top technology? Yes. Good TDP and RAM, motherboard, and Socket Compatibility are some other bright features of the same!
Now, we hope you know which CPU cooler to buy and how to research. Happy Shopping!