In the realm of gaming and graphics processing, the pursuit of power and performance has become an inherent part of the modern gaming experience. With the ever-evolving landscape of PC hardware, enthusiasts and gamers alike eagerly await the latest advancements that promise to elevate their gaming experiences to new heights. One such highly anticipated release is Nvidia's newest addition to their lineup, the GeForce RTX 4070.
As technology continues to push boundaries, the demand for cutting-edge graphics cards has never been greater. Gaming enthusiasts seek out powerful GPUs that can deliver immersive visuals, realistic ray tracing, and smooth frame rates. Meanwhile, content creators, designers, and professionals rely on top-tier graphics processing to enhance their productivity and unlock new possibilities in their respective fields.
Acknowledging this demand, Nvidia positions its latest offering, the GeForce RTX 4070, as a game-changer in the world of graphics cards. Boasting advanced features, superior performance, and unprecedented capabilities, this new GPU has garnered significant attention from the gaming and PC enthusiast community.
One particular iteration of the GeForce RTX 4070 that has captivated the market is the MSI GeForce RTX 4070 VENTUS 3X OC 12GB. With its impressive specifications and enhanced cooling technology, this graphics card aims to deliver exceptional performance and meet the demands of even the most demanding gamers and content creators.
In this review, we will delve into the MSI GeForce RTX 4070 VENTUS 3X OC 12GB, exploring its features, specifications, and overall design. Additionally, we will examine its benchmark performance using industry-standard tests such as UserBenchmark and Passmark. So, join us as we unravel the potential of the MSI GeForce RTX 4070 VENTUS 3X OC 12GB and discover whether it lives up to the hype surrounding Nvidia's latest generation of graphics cards.
Unboxing
Specification Overview
Now let us delve into the detailed specifications of the MSI GeForce RTX 4070 VENTUS 3X OC 12GB. These specifications provide a comprehensive understanding of the capabilities and technical prowess of this impressive graphics card:
| | |
| --- | --- |
| Specification | Details |
| GRAPHICS PROCESSING UNIT | NVIDIA GeForce RTX 4070 |
| Architecture | NVIDIA Ada Lovelace architecture |
| INTERFACE | PCI Express Gen 4 |
| CORE CLOCKS | Extreme Performance: 2520 MHz (MSI Center) |
| Boost | 2505 MHz |
| CUDA CORES | 5888 Units |
| MEMORY SPEED | 21 Gbps |
| MEMORY | 12GB GDDR6X |
| MEMORY BUS | BUS: 192-bit |
| OUTPUT | DisplayPort x 3 (v1.4a), HDMI x 1 (Supports 4K@120Hz HDR, 8K@60Hz HDR, and Variable Refresh Rate as specified in HDMI 2.1a) |
| G-SYNC TECHNOLOGY | Yes |
| MAXIMUM DISPLAYS | 4 |
| DIGITAL MAXIMUM RESOLUTION | 7680 x 4320 |
| POWER CONNECTORS | 8-pin x 1 |
| RECOMMENDED PSU | 650W |
| HDCP SUPPORT | Yes |
| WEIGHT (CARD / PACKAGE) | 811g / 1152g |
| CARD DIMENSION (MM) | 308 x 120 x 43 mm |
| DIRECTX VERSION SUPPORT | 12 Ultimate |
| POWER CONSUMPTION | 200W |
| OPENGL VERSION SUPPORT | 4.6 |
The MSI GeForce RTX 4070 VENTUS 3X OC 12GB is equipped with the latest NVIDIA Ada Lovelace architecture, ensuring superior performance and efficiency. With a base clock speed of 2520 MHz in Extreme Performance mode (adjustable through the MSI Center) and a boost clock speed of 2505 MHz, this graphics card offers exceptional speeds for smooth and immersive gaming experiences.
The inclusion of 5888 CUDA cores further enhances the GPU's computational power, enabling the seamless execution of complex graphical tasks. With 12GB of high-speed GDDR6X memory and a 192-bit memory bus, the RTX 4070 VENTUS 3X OC delivers swift data transfer rates, ensuring fluid gameplay and responsive applications.
Connectivity options are abundant, with three DisplayPort 1.4a outputs and an HDMI 2.1a port. These ports support various high-resolution displays, including 4K@120Hz HDR, 8K@60Hz HDR, and Variable Refresh Rate as specified in HDMI 2.1a. HDCP support is also present, ensuring compatibility with protected content.
With a power consumption of 200W, the RTX 4070 VENTUS 3X OC requires an 8-pin power connector and is recommended to be paired with a 650W power supply unit (PSU). The compact dimensions of 308 x 120 x 43 mm make it suitable for various PC configurations, while its weight of 811g ensures stability and ease of installation.
Support for DirectX 12 Ultimate and OpenGL 4.6 guarantees compatibility with the latest graphics technologies and APIs, enabling stunning visuals and enhanced performance in a wide range of applications. G-SYNC technology ensures tear-free and smooth gaming experiences, while the maximum digital resolution of 7680 x 4320 allows for immersive gameplay on high-resolution displays.
Features
NVIDIA's Ada Lovelace architecture brings forth a host of cutting-edge features and advancements that propel the MSI GeForce RTX 4070 VENTUS 3X OC 12GB to new heights of performance and visual fidelity. Let's take a closer look at some of the key features:
Fourth-Gen Tensor Cores for AI Acceleration
NVIDIA Tensor Cores are at the heart of AI technologies, including NVIDIA DLSS (Deep Learning Super Sampling).
The fourth-generation Tensor Cores in Ada's architecture deliver unprecedented speed and efficiency, with up to 5X throughput increase, reaching 1.4 Tensor-petaFLOPS using the new FP8 Transformer Engine.
This advanced AI processing enables DLSS 3, a revolutionary AI-powered graphics feature that significantly boosts performance by creating additional high-quality frames.
Realistic and Immersive Graphics with Dedicated Ray Tracing Cores
NVIDIA's invention of Ray Tracing Cores (RT Cores) made real-time ray tracing possible.
The third-generation RT Cores in Ada's architecture bring substantial improvements, including twice the ray-triangle intersection throughput and over 2X performance in RT-TFLOP.
The new RT Cores feature an Opacity Micromap (OMM) Engine and a Displaced Micro-Mesh (DMM) Engine, allowing faster ray tracing of alpha-tested textures and real-time ray tracing of geometrically complex scenes.
Shader Execution Reordering for Improved Efficiency
Shader Execution Reordering (SER) technology dynamically optimizes shader workloads for advanced ray tracing.
By reorganizing previously inefficient workloads, SER significantly improves shader performance, resulting in up to 3X better performance for ray tracing operations and up to 25% higher in-game frame rates.
AI-Accelerated Performance with NVIDIA DLSS 3
NVIDIA DLSS 3 leverages the power of the fourth-gen Tensor Cores and Optical Flow Accelerator on the GeForce RTX 40 Series GPUs.
DLSS 3 utilizes AI to create additional high-quality frames, delivering a massive performance boost and enabling smoother gameplay at higher resolutions.
NVIDIA Reflex Low-Latency Platform
To provide gamers with a competitive advantage, NVIDIA Reflex, in combination with GeForce RTX 40 Series GPUs and G-SYNC monitors, offers the lowest latency and best responsiveness. Key features include:
Faster target acquisition, enabling quicker reaction times and improved aim precision.
NVIDIA Reflex optimizes and measures system latency, resulting in an enhanced gaming experience that benefits competitive gamers and enthusiasts alike.
NVIDIA AV1 Encoders
The Ada architecture introduces the eighth generation of NVIDIA Encoders (NVENC) with AV1 encoding. This encoding technology brings numerous benefits to streamers, broadcasters, and video callers:
AV1 encoding is 40% more efficient than H.264, allowing streamers to increase their stream resolution to 1440p while maintaining the same bitrate and quality as a 1080p stream.
Streamers can enjoy higher visual fidelity and improved video quality, enhancing the streaming experience for both content creators and viewers.
RTX Video Super-Resolution and NVIDIA Broadcast
With the inclusion of RTX Video Super-Resolution and NVIDIA Broadcast, the MSI GeForce RTX 4070 VENTUS 3X OC 12GB enhances voice and video capabilities, enabling users to take their live streams, voice chats, and video conference calls to the next level:
RTX Video Super Resolution utilizes AI to upscale lower-resolution content in real-time, improving visual quality and fidelity.
NVIDIA Broadcast app leverages AI to enhance voice and video quality, eliminating background noise, enhancing audio clarity, and applying virtual backgrounds for a professional and immersive streaming or video conferencing experience.
NVIDIA Studio
The NVIDIA Studio platform is designed to empower creators, from hobbyists to industry professionals, by providing exceptional performance and capabilities. When paired with the MSI GeForce RTX 4070 VENTUS 3X OC 12GB, NVIDIA Studio offers the following benefits:
Unleash your creative potential with industry-leading RTX GPUs that deliver exceptional rendering, editing, and 3D modeling performance.
The exclusive driver technology optimized for creative applications ensures smooth and efficient workflows, enabling you to bring your ideas to life faster.
With the power of NVIDIA Studio and the MSI GeForce RTX 4070 VENTUS 3X OC 12GB, you can tackle even the most demanding creative projects, from video editing and visual effects to 3D animation and game development.
NVIDIA Studio provides a comprehensive ecosystem that enables artists and creators to push the boundaries of their creativity, delivering unparalleled performance and efficiency.
Design & Build Quality
The MSI GeForce RTX 4070 VENTUS 3X OC 12GB not only impresses with its powerful performance but also with its exceptional design and build quality. Let's take a closer look at the innovative features that make this graphics card stand out from the crowd.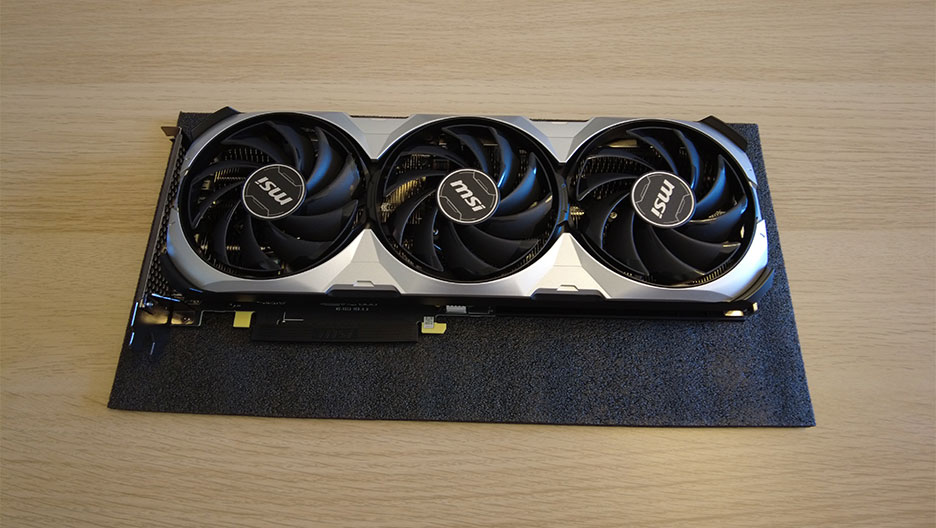 First and foremost, the revolutionary triple-fan thermal design ensures optimal cooling and a quiet gaming experience. With three fans mounted on a massive heatsink, heat dissipation is efficient and effective, allowing for sustained high performance without overheating.
The Corepipe technology is another noteworthy feature of the design. These precision-crafted core pipes maximize the use of available space and make direct contact with the GPU baseplate. This direct contact facilitates the efficient transfer of heat along the full length of the heatsink, resulting in improved overall cooling performance.
To further enhance thermal efficiency, the MSI GeForce RTX 4070 VENTUS 3X OC 12GB incorporates a copper baseplate. This solid nickel-plated copper baseplate rapidly captures heat from the GPU and memory modules, swiftly transferring it to an array of heat pipes. The widened thermal transfer system ensures that heat is dissipated effectively, keeping the graphics card operating at optimal temperatures.
Airflow control is also a key consideration in the design of this graphics card. With the Airflow Control feature, the airflow dynamics are improved, ensuring that cool air is guided to where it is needed most. The addition of deflectors further enhances the cooling performance by providing additional surface area for better airflow management.
The TORX FAN 4.0 is a standout component of the design, with its innovative linked outer ring design that binds pairs of fan blades together. This design focuses airflow into the triple-fan cooling system, maximizing cooling efficiency and ensuring consistent performance even during intense gaming sessions.
In terms of power management, the MSI GeForce RTX 4070 VENTUS 3X OC 12GB incorporates DrMos power stage solutions. These power stages offer excellent efficiency with low power loss and enhanced voltage controls. This translates to more stable power delivery and improved overall performance.
To provide additional safeguards against electrical damage, the custom PCB of the graphics card features built-in additional fuses. These fuses add an extra layer of protection, ensuring the longevity and reliability of the graphics card.
With its innovative and carefully crafted design, the MSI GeForce RTX 4070 VENTUS 3X OC 12GB not only delivers exceptional performance but also ensures optimal cooling, efficient power management, and enhanced durability. This graphics card is built to withstand the demands of modern gaming and provide a top-tier gaming experience for gamers and enthusiasts alike.
Benchmark (UserBenchmark & Passmark)
When it comes to benchmarking the performance of the MSI GeForce RTX 4070 VENTUS 3X OC 12GB, we have conducted tests using UserBenchmark and Passmark to provide an overview of its capabilities. Let's delve into the results of these benchmark tests.
UserBenchmark
In the UserBenchmark test, the Nvidia RTX 4070 achieved an average bench score of 190%, indicating outstanding performance. With 6,584 user benchmarks, this graphics card showcases its power, surpassing expectations and delivering exceptional results. It performed above the potential of the 55th percentile, indicating that it has room for overclocking for even greater performance.
Specifically, in terms of individual performance metrics, the lighting score reached 277, reflection scored 260, and parallax achieved an impressive 278. In the MRender test, it scored 356, further demonstrating its rendering capabilities. The gravity score stood at 236 while splatting scored 186. Overall, the performance of the RTX 4070 in the UserBenchmark test is outstanding, with consistently high FPS and excellent scores across different metrics.
Passmark
According to the Passmark test, the 3D Graphics Mark Score for the MSI GeForce RTX 4070 VENTUS 3X OC 12GB is 24,176. This places it in the 92nd percentile, showcasing its exceptional performance compared to other graphics cards. In comparison to the world average score of 10,266, the RTX 4070 significantly outperforms the average graphics card. It also surpasses the minimum score of 0 and comes close to the maximum score of 245,174, indicating its capability to handle demanding graphical tasks.
When compared to the same model of the video card, the RTX 4070 performs admirably. It achieves an average score of 26,979, surpassing the minimum score of 151. While not reaching the maximum score of 37,376, it still demonstrates its ability to deliver excellent performance consistently.
These benchmark results highlight the impressive performance capabilities of the MSI GeForce RTX 4070 VENTUS 3X OC 12GB. Whether you're engaging in intense gaming sessions or tackling resource-intensive graphical tasks, this graphics card showcases its prowess and delivers outstanding performance. With its exceptional benchmark scores, the RTX 4070 proves to be a formidable choice for gamers and professionals seeking top-tier graphics performance.
Gaming Performance
When it comes to gaming performance, the MSI GeForce RTX 4070 VENTUS 3X OC 12GB truly shines. We conducted several FPS tests on popular games to give you an idea of their capabilities. Here are the results:
Detroit: Become Human
| | |
| --- | --- |
| Frames Rendered | 4546 |
| Time | 32.234 seconds |
| Average Framerate | 141.0 FPS |
| Minimum Framerate | 138.6 FPS |
| Maximum Framerate | 143.2 FPS |
| 1% Low Framerate | 97.0 FPS |
| 0.1% Low Framerate | 54.2 FPS |
RTX 4070 Unreal Engine 5 performance
Layers of Fear – Unreal Engine 5, 4K MAX, RTX ON, DLSS Quality
| | |
| --- | --- |
| Frames Rendered | 1605 |
| Time | 20.656 seconds |
| Average Framerate | 77.7 FPS |
| Minimum Framerate | 70.2 FPS |
| Maximum Framerate | 91.0 FPS |
| 1% Low Framerate | 63.1 FPS |
| 0.1% Low Framerate | 52.1 FPS |
Layers of Fear – Unreal Engine 5, 4K MAX, RTX OFF, DLSS Quality
| | |
| --- | --- |
| Frames Rendered | 1581 |
| Time | 19.922 seconds |
| Average Framerate | 79.3 FPS |
| Minimum Framerate | 72.2 FPS |
| Maximum Framerate | 91.7 FPS |
| 1% Low Framerate | 67.1 FPS |
| 0.1% Low Framerate | 60.5 FPS |
Dead Space
| | |
| --- | --- |
| Frames Rendered | 5821 |
| Time | 110.094 seconds |
| Average Framerate | 52.8 FPS |
| Minimum Framerate | 36.9 FPS |
| Maximum Framerate | 65.2 FPS |
| 1% Low Framerate | 40.9 FPS |
| 0.1% Low Framerate | 4.2 FPS |
These benchmarks demonstrate the exceptional gaming performance of the MSI GeForce RTX 4070 VENTUS 3X OC 12GB. Whether you're playing visually stunning titles like Detroit: Become Human or pushing the limits of realism with Layers of Fear in Unreal Engine 5, this graphics card consistently delivers smooth gameplay and high framerates. With features such as DLSS and RTX capabilities, you can enjoy immersive experiences with stunning visuals and lifelike effects.
The System Configuration We Used
During the tests for the MSI GeForce RTX 4070 VENTUS 3X OC 12GB, we utilized the following system configuration:
Operating System: Windows 11 Pro 64-bit (10.0, Build 22621) (22621.ni_release.220506-1250)
Motherboard Model: MS-7B48
Processor: Intel(R) Core(TM) i5-9600K CPU @ 3.70GHz (6 CPUs), ~3.7GHz
RAM Memory: 32,768MB RAM
Graphics Card: NVIDIA GeForce RTX 4070
This system configuration provides a good foundation for the performance of the MSI GeForce RTX 4070 VENTUS 3X OC 12GB. The combination of the Intel Core i5-9600K CPU and the powerful RTX 4070 GPU ensures optimal performance and enables the graphics card to showcase its capabilities in various tests.
Please note that these results were obtained using this specific system configuration. Individual results may vary depending on factors such as other system components, software optimizations, and cooling solutions.
Intel i5-9600K and RTX 4070 Performance (My Thoughts)
When it comes to the performance of the i5-9600K CPU paired with the MSI GeForce RTX 4070 VENTUS 3X OC 12GB, it's important to consider the capabilities and limitations of both components. Here are my thoughts on this pairing:
The i5-9600K is a 9th-generation Intel Core processor that offers strong gaming performance. With its 6 cores and 6 threads, it can handle most modern games without much difficulty. However, it's worth noting that it falls slightly behind in multi-threaded tasks compared to higher-end CPUs with more cores and threads. This means that in scenarios where the CPU is heavily utilized, such as in CPU-intensive games or certain productivity applications, it may not perform as well as more powerful processors.
On the other hand, the MSI GeForce RTX 4070 is a top-of-the-line graphics card that boasts impressive performance and features. With its powerful Ada Lovelace architecture, dedicated Ray Tracing Cores, and fourth-generation Tensor Cores, it delivers stunning visuals and supports advanced technologies like DLSS. The 12GB GDDR6X memory and 5888 CUDA cores ensure smooth gameplay and excellent graphics rendering capabilities.
When it comes to potential bottlenecks, the i5-9600K may struggle to fully utilize the RTX 4070's capabilities in certain CPU-intensive games or applications. In such cases, the CPU may become the limiting factor in achieving the highest framerates or overall system performance. Upgrading to a more powerful CPU, such as an i7 or i9, could help alleviate this potential bottleneck.
In terms of system requirements, both the i5-9600K and RTX 4070 require a compatible motherboard with the necessary PCIe slots and power supply connectors. It's important to ensure that your motherboard supports the CPU and that your power supply unit provides enough wattage to support the GPU's power demands. Additionally, you'll need to have a sufficient amount of RAM to complement the system's overall performance.
In terms of compatibility issues, as long as your motherboard has the required PCIe slot and your power supply meets the GPU's power requirements, there shouldn't be any major compatibility issues. However, it's always a good idea to check the manufacturer's website for any specific compatibility notes or driver updates.
In conclusion, the i5-9600K and MSI GeForce RTX 4070 VENTUS 3X OC 12GB can form a powerful gaming combination. While the CPU may not be the most powerful option available, it can still deliver solid performance in most gaming scenarios. However, for users seeking the absolute highest performance or engaging in CPU-intensive tasks, upgrading to a more powerful CPU may be beneficial. Overall, with the RTX 4070's exceptional graphics capabilities and the i5-9600K's gaming performance, you can enjoy a great gaming experience with high-quality visuals and smooth gameplay.
Last Words
The MSI GeForce RTX 4070 VENTUS 3X OC 12GB sets a new standard for performance, visual fidelity, and innovation in the world of graphics cards. It represents a significant investment for those who seek the best gaming and graphics experiences, offering a powerful and future-proof solution for years to come.
So, gear up, immerse yourself in the world of cutting-edge graphics, and unleash your creativity with the MSI GeForce RTX 4070 VENTUS 3X OC 12GB.