If you are a gamer or someone with knowledge about CPUs, you will know Ryzen Zen 2 CPU is a top choice! This CPU has eight cores and 16 threads. On top of that, you get a great build and performance.
Additionally, you get all these cool features at a reasonable price as well. So, what's the issue here? These power-packed CPUs heat up quickly, and you need to cool the temperature to avoid any damage. What do we do now? Enter CPU Coolers! (They are all you need)
If you're looking for the best CPU Coolers for Ryzen 7 3700x, we have got you covered. Let's jump in!
Some Tips to Buy the Perfect CPU Cooler
With the market gushing with options, selecting the correct CPU Cooler can be a tricky job. There are various things to consider, and specifically the features with which these CPU coolers come.
To make things a little short, I have a video here detailing some of the essential points to keep in mind before you spend your hard-earned money. Click on the link below to get enlightened.
Got a nice idea about choosing the right CPU cooler? Yay, I hope so!
Now, for the people who would rather read to get a descriptive idea of these parameters, read on!
CPU Cooler Type
The CPU coolers available in the market are broadly divided into air, closed-loop, or all-in-one coolers and, lastly, custom/ open-loop cooling setups.
Air Coolers
Air Coolers consist of metal heatsinks and fans. You can buy them in various shapes, and sizes and, not to forget, based on thermal dissipation capacities or TDP.
Open Loop Coolers
Open Loop Coolers are the most expensive options sold in the market; they are extremely complex as well. You might take some time to understand their nitty-gritty.
On the brighter side, Open Loop Coolers tend to provide top-notch results and cooling performance.
AIO or Closed Loop Coolers
AIO coolers are also referred to as Liquid Coolers. These CPU Coolers are known for their low noise production while working at maximum efficiency. (specifically comparing to air coolers).
For AIO coolers, you won't have to cut and fit custom tubes. Neither will you have to maintain coolant levels.
They are even leak-resistant and extremely user-friendly when it comes to the installation part. The only negative is the requirement for the larger case since they need space for a radiator.
CPU Socket
Buying the CPU Cooler and not being able to fit it in your sockets would be such a waste of money! To save yourself from this misery, almost always choose the cooler model which fits your CPU socket comfortably.
You can go over socket compatibility charts available online to get a clearer idea!
Motherboard
Just like your CPU Socket, the motherboard also plays a big role in CPU Cooler selection. You must look for a Cooler that fits your motherboard. You can check for the details using Motherboard compatibility lists on the internet.
Case Compatibility and Cooler Height
Case Compatibility, along with the cooler heights together, accounts for a perfect CPU Cooler fit. The amount of clearance for coolers will depend on the different PC cases. Make a note of the clearance required by your pick of coolers, or calculate the clearance from the case.
Once you have the desired value of clearance, go for the CPU cooler that fits these specifications.
Ram Compatibility
Standard RAM modules (up to 33 mm) are extremely compatible with almost all cooler models. The issue arises when the user goes for RAM with taller heat spreaders.
Some big cooler models will heat sink themselves, or the fan might overhang the RAM slots on a motherboard when used with RAM Modules of greater heights.
All in all, you should check the popular models and their tendency to overhang memory slots.
CPU TDP (Thermal Design Power) and Overclocking
The CPU size and design make a lot of difference when choosing a CPU cooler. Generally, big coolers have better cooling performance. These CPU coolers would suit higher TDP CPUs and overclock.
What does overclocking mean, though? Overclocking is the tendency to make your CPU work faster than its stipulated limits.
Similarly, lower TDP CPUs will work fine with low-profile cooler models
Noise
How does noise become a factor here? Well, for starters, as a user, you will, of course, prefer to use a system that works quietly as possible. Cooling performance and noise-making are far more related than you thought.
A cooler with extra performance headroom for the CPU will have fans with low speeds and less sound. On the contrary, your CPU's fully maxed-out cooler shall have fans with high speeds once the CPU is under load.
Keeping all these parameters in mind, you should choose a CPU cooler that matches your CPU's TDP class, overclocking tendencies, and acceptable noise production.
PCIe Compatibility
Just like I mentioned the CPU slot and motherboard compatibility, PCIe compatibility is a crucial point too. Big coolers may tend to overhang the top PCIe slot.
How do we figure this out, then? I have observed that the whole compatibility largely depends on the cooler size, top PCIe slot placement, and CPU socket location.
One should look for compact CPU Coolers that would be compatible with all cases and don't overhang the top PCIe slot.
So, these are the top factors to be analyzed while buying the best CPU cooler for Ryzen 7 3700X or any other processor for that matter! Next up, I have my personal top 5 CPU coolers to give you the best cooling performance all the time!
Review of the 5 Best CPU Coolers for Ryzen 7 3700X
Noctua NH-D15
Best Overall CPU Cooler for Ryzen 7 3700X
| | |
| --- | --- |
| Specifications | |
| Dimensions | 5.91 x 6.34 x 6.5 inches |
| Cooling Method | Fan |
| Weight | 2.87 Pounds |
| Noise Levels | 24.6 dB |
| Material | Copper for the Base and heat pipes; Aluminium for cooling fins and soldered joints and nickel plating |
Noctua NH D- 15 is my best overall pick! And yes, there are multiple reasons behind that.
Firstly, if you are a big fan of quiet cooling fans, this is the one for you. Noctua provides two NF-A15 140mm fans that come with PWM support. Through this feature, this fan has an automatic speed control which helps in high efficiency. They also provide ultra-quiet operations.
The Design of Noctua NH D-15 is top-class. The state-of-the-art dual tower design with six heat pipes and two fans gives you the unparallel cooling performance you need.
The High-end NT-H1 thermal paste and the SecuForm2 mounting system help in easy installation on a range of Intel and AMD processor CPUs.
The brand names count for me! And Noctua quality is world-renowned. They also come with a fab six-year warranty just in case you face any issues. Noctua NH D-15 is also a big name when we talk about awards.
It has more than 250 awards and recommendations from the top hardware websites and magazines.
Conclusion
As simple as it sounds, Noctua NH D-15 is actually the CPU cooler you need for Ryzen 7 3700x. The high-quality design and top-notch cooling performance make it a dependable and reasonable choice for a great CPU Cooler.
Sale
Noctua NH-D15: Best Overall
State-of-the-art dual-tower design with 6 heatpipes and 2 fans provides class-leading cooling performance for...
Successor of the classic NH-D14; more than 250 awards and recommendations from leading international hardware...
2 highly optimised NF-A15 140mm fans with PWM support and Low-Noise Adaptors for automatic speed control and...
Includes high-end NT-H1 thermal paste and SecuFirm2 mounting system for easy installation on Intel LGA1700...
Scythe Mugen 5 Rev B
Best Budget CPU Cooler for Ryzen 7 3700X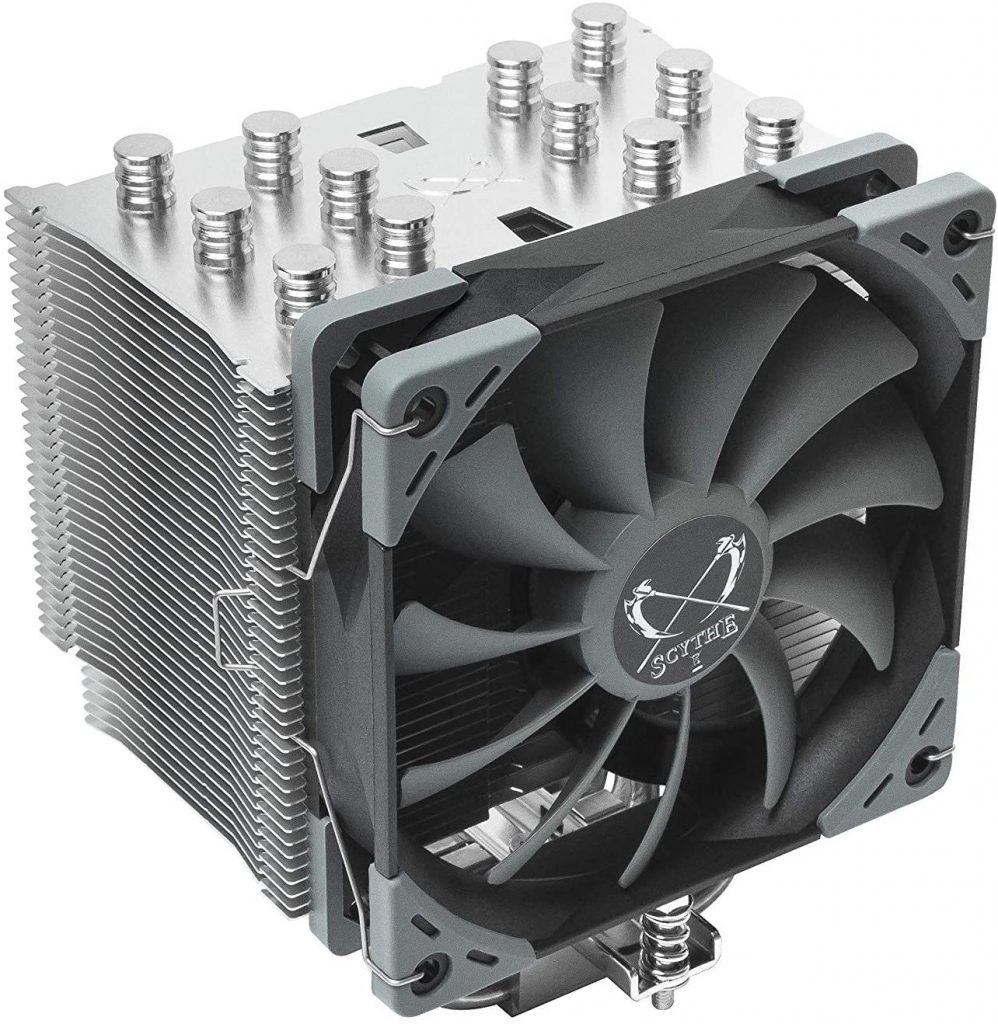 | | |
| --- | --- |
| Specifications | |
| Dimensions | 6.5 x 5.75 x 3.94 inches |
| Cooling Method | Air |
| Weight | 2.91 Pounds |
| Noise Levels | Quiet 120 MM Kaze Flex Fan |
| Material | Metal |
Buying a CPU Cooler is no game! Specifically an affordable one. I used to think the exact same way until I tried the Scythe Mugen 5 Rev B. With a price under $ 50 on Amazon, this cooler is a steal deal!
Not just the price but the features it offers are also the industry's best. The best feature of Mugen 5 has to be its Silent Operation. As mentioned in the specifications, the 120 mm Kaze Flex Fan is responsible for high airflow and static pressure.
You will also get an additional fan clip just in case you want to add a second optional fan. This extra fan will work in a push-pull configuration and provide you with maximum performance.
This CPU Cooler comes with a thermal compound paste included. You can use it for Intel core i9, i7, i3, and AMD Ryzen.
Heat dissipation and Superior cooling performance are also among the features offered by Mugen 5. The six x6 mm heat pipes and copper plate base help in the same while gaming, mainstream work, and overclocking as well.
The spring-loaded mounting system of Scythe Mugen 5 Rev B is compatible with most CPYU sockets and makes the installation secure and easy. Mugen 5 also boasts of an asymmetrical design which further helps in RAM Compatibility. It also allows unrestricted access to memory banks.
Conclusion
If the CPU Cooler you want should provide the optimal cooling performance along with a cost-effective price, go for the Scythe Mugen Rev 5! You will not regret this buy.
Scythe Mugen 5 Rev B: Best Budget
Classic 120mm tower design with high-quality copper base, 6 heat pipes, and a smooth copper base ensures...
Quiet 120mm Kaze Flex fan (Fluid Dynamic Bearing) for high airflow and static pressure with silent...
The asymmetrical heat sink layout provides full access to the front RAM slots. Cut-out fins on the back allow...
HPMS II(Hyper Precision Mounting System 2th Gen) is a secure and easy-to-install spring loaded mounting system...
Be quiet! Dark Rock Pro 4
Best Silent Air CPU Cooler for Ryzen 7 3700X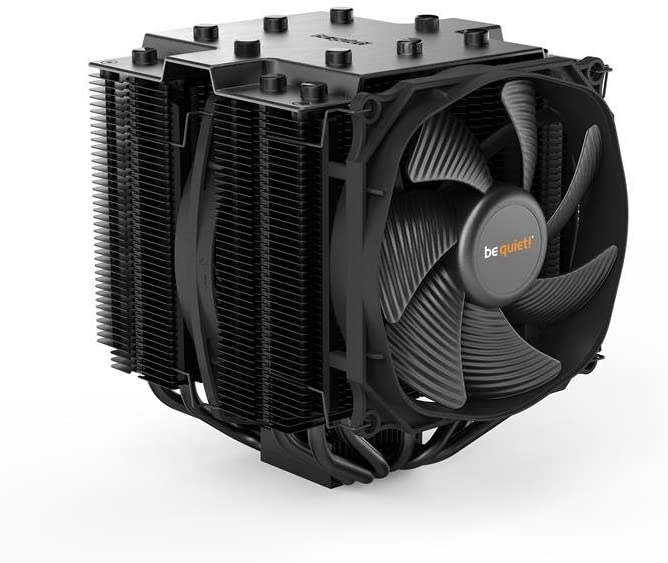 | | |
| --- | --- |
| Specifications | |
| Dimensions | 5.3 x 5.7 x 6.4 inches |
| Cooling Method | Fan |
| Weight | 2.49 Pounds |
| Noise Levels | 24.3 dB |
| Material | Copper |
For lovers of silence, much like its name, be quiet! Dark Rock Pro 4 is a top choice. This CPU cooler has a total of two virtually inaudible silent wings PWM fans. Additionally, it also has a front fan with a funnel-shaped frame for high air pressure.
The sound levels are very low, with about 24.3 Db at the highest fan speed. This CPU cooler also has air flow-optimized cooling fins to provide enhanced cooling performance. The cutouts are crucial in improving RAM compatibility.
With be quiet! Dark Rock Pro 4, you are blessed with easy installation via a black installation kit mounted from above. The seven copper heat pipes add to the high performance!
The best part? If any breakage or issues in your be quiet! Dark Rock Pro 4 CPU cooler and you have a three-year warranty from the manufacturer to your rescue. Yay
Conclusion
Folks, if you want a durable, high-quality build and an ultra-quiet CPU Cooler, I 10/10 recommend being quiet! Dark Rock Pro 4 CPU Cooler. This CPU Cooler is a boon for hardcore gamers who invest hours of their days on a PC!
Be quiet! Dark Rock Pro 4: Best Silent Air CPU Cooler
Socket compatibility AMD: AM5 / AM4
Socket compatibility Intel: 1700 / 1200 / 2066 / 1150 / 1151 / 1155 / 2011(-3) Square ILM
Two virtually inaudible silent Wings PWM fans
Funnel-shaped frame of the front fan for high air pressure
Corsair H115i RGB Platinum AIO Liquid Cooler
Best Liquid Cooler for Ryzen 7 3700X
| | |
| --- | --- |
| Specifications | |
| Dimensions | 12.6 x 5.51 x 1.18 inches |
| Cooling Method | Water |
| Weight | 2.16 Pounds |
| Noise Levels | 37 dB |
| Material | Metal |
Another one of my top favorites, the Corsair H115i RGB Platinum AIO Liquid CPU Cooler, is one of a kind! The features are the best in class, and the craziest part is you get 16 RGB LED lights. You can make these lights to be synchronized and get the color coordination you need!
The 2 140 mm ML PRO Series RGB PWM fans with magnetic levitation are a blessing! They help provide beautiful colors and help with proper airflow.
The CORSAIR iCue Software is pretty effective; users can maintain the coolant temperatures and control the RGB lighting. You can also adjust the pump and fan speeds from just one point source of the software.
As mentioned previously, the RGB LED lights bring light to the pump head and produce stunning lighting effects. These effects fit beautifully well with the 2000 RPM fan speed!
If you're looking for a moderately quiet cooling experience, Corsair performs incredibly well! The cold plate is thermally optimized, and the low noise from the pump helps give you the low noise high performance you need, fellas.
Conclusion
On the lookout for a high-quality CPU Cooler with some aesthetics? Corsair H115i RGB is the choice to make!
Sale
Corsair H115i RGB Platinum AIO Liquid Cooler
2 140mm ML PRO Series RGB magnetic levitation PWM fans deliver a blast of color and improved airflow for...
16 Individually controlled RGB LEDs light up the pump head to produce stunning customizable lighting effects...
CORSAIR iCUE software allows you to control your cooler's RGB lighting monitor CPU and coolant temperatures...
Thermally optimized cold plate and low-noise pump design for high performance quiet cooling
NZXT Kraken Z63 280 MM AIO liquid Cooler with LCD display
Best Performance CPU Cooler for Ryzen 7 3700X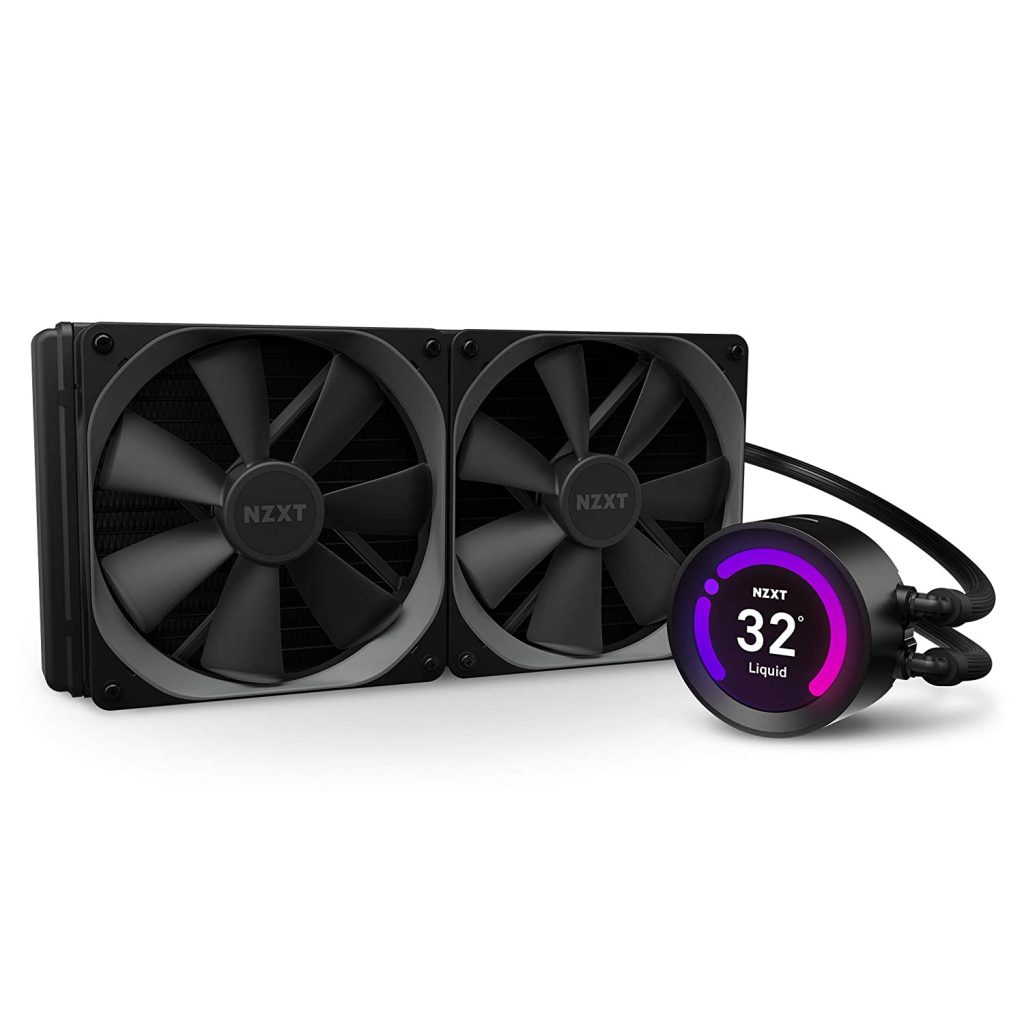 | | |
| --- | --- |
| Specifications | |
| Dimensions | 35 x 20 x 25 cm |
| Cooling Method | Water |
| Weight | 2.1 Kilograms |
| Noise Levels | 21 dB |
| Material | Metal |
NZXT is a fantastic brand, and so are their CPU Coolers. The best part of these Coolers is that they are extremely reliable and quiet. You can also do overclocking while you're at it!
Their performance speaks for itself with the chamfered intake and f=luid dynamic bearings! Long-term reliability and powerful cooling are just other names for this cooler.
The user-friendly software lets you take control of your PC with simple and easy-to-understand functions. You can also regulate the performance of Kraken via these simple-to-use controls.
In terms of aesthetics, NZXT wins! The cooler with its 2.36″ bright LCD screen displays 24-bit color. With these features, CPU Cooler look customization just became very easy!
The installation is pretty simple as well. You can use the programmable display, and the pump rotates according to the motherboard fits. Yay
Conclusion
In my list of the best CPU Coolers in the market, NZXT makes a strong entry and promises to leave a mark! The massive 280 mm radiator, along with the two 140mm fans and the Asetek pump, are just some of the reasons why Kraken is best suited for powerful processors.
NZXT Kraken Z63 280 MM AIO liquid Cooler with LCD display
With a bright, 2.36" LCD screen capable of displaying 24-bit color, you can now completely customize the...
CAM's elegant, user-friendly software makes you the master of your PC. With simple-to-use, intuitive...
The included Aer P radiator fans are designed for liquid-cooling perfection. Featuring a chamfered intake and...
Fine nylon mesh sleeves strengthen the rubber tubing, providing durability and protection against mishandling
Wrap Up
In my eyes, Noctua NH-D15 is a clear winner in the race of the Best CPU Coolers for Ryzen 7 3700x. I don't say that just because it sounds good! Noctua promises to give users the benefit of great features, reasonable prices, and the trust of a brand that has been appreciated for many years.
In terms of Air Coolers, Noctua NH-D15 is the choice to make! You will get great RAM Compatibility, no noise as such, and even be able to overclock your CPU. I feel you won't be left unimpressed.
If you're on the lookout for liquid coolers specifically, then you might shift to Corsair Kraken. I hope this article helped and made things a little simpler for you. Happy Shopping!