With Ryzen 5000 processors, everything is simple. The performance of the 6-core 12-thread AMD Ryzen 5 5600X is higher than the 8-core Intel Core i7-10700K. Compared with the Intel Core i5-10600K, it's operating and turbo frequency is also lower.
AMD Ryzen 5 3600 is one of the most popular processors, characterized by an optimal price-performance ratio (specifications: 6 cores, 12 threads, clock speed – 3.6 – 4.2 GHz, L3 cache – 32 MB, power consumption – 65 W).
The six cores and twelve threads are enough to handle any modern title. Still, of course, you need a powerful graphics card with this processor, and we are here with a few different options for the best graphics card for the Ryzen 5 5600X.to consider in 2021 or even beyond. However, the Ryzen 5 5600X is the cheapest that offers Zen3 architecture, but the performance matches some of Intel's high-end competitors.
Pairing a cheap graphics card does not make sense, and we must opt ​​for a high-end or mid-range option. This article contains the top 6 graphics cards for the Ryzen 5 5600X; choosing one is up to you, depending on the budget.
Top 6 AMD Ryzen 5 5600X graphic cards
We are interested in combining video cards with the AMD Ryzen 5 5600X processor. With this processor, you can even grab a GeForce RTX 3090. Previously, the maximum allowed for the Ryzen 5 3600X was the RTX 3080. Let's discuss over here:
ZOTAC Gaming RTX 2060
| | |
| --- | --- |
| Memory Speed | 1680 GHz |
| Graphics Coprocessor | NVIDIA GeForce RTX 2060 |
| Chipset Brand | NVIDIA |
| Graphics Card Ram Size | 6 GB |
The Zotac Gaming GeForce RTX 2060 Super Mini has proven itself as a sound mid-range graphics card in benchmarks. It is almost a complete replacement for the RTX 2070. The card's performance is sufficient for gaming, especially in Full HD resolution. At 1440p, the device also performs well, but there is not enough power for Ultra-HD gaming. In the synthetic gaming benchmark 3DMark Fire Strike, the RTX 2060 shows almost identical results to the RTX-2070 models without overclocking and outperforms the stock RTX 2060 by about 10%.
The GeForce RTX 2060 Superbase frequency is now at 1470 MHz (for the RTX 2060 – 1365 MHz, for the RTX 2070 – 1410 MHz), and its clock speed is also increased. The Boost frequency is 1650 MHz is lower than the RTX 2060 (1680 MHz) but higher than the RTX 2070 (1620 MHz). However, this does not prevent the RTX 2060 Super from catching up with the RTX 2070 and significantly outperforming the RTX 2060. The card is only 21 centimeters long, making it a good choice for a compact desktop system. The maximum temperature under heavy load was 74 degrees. This makes this model one of the hottest, but the indicators are still within the acceptable range.
ZOTAC Gaming RTX 2060
New turing architecture, real-time raytracing, dlss with deep learning ai
6gb 192-bit gddr6
Dual slot, super compACt 8.3-inch card, fits 99% of systems
4k, HDR, VR ready
Conclusion
Zotac Gaming GeForce RTX 2070 Super AMP has an excellent design, both external and in terms of PCB layout, combined with an efficient and, notably, quiet cooling system. Even the backlight is close to ideal, but it is done reasonably, and it will be easy to turn it off if necessary. In short, Zotac Gaming GeForce RTX 2070 is ideal for those who do not care so much.
MSI GeForce RTX 3090 Supreme X
| | |
| --- | --- |
| Memory Speed | 1.7 GHz |
| Graphics Coprocessor | NVIDIA GeForce RTX 3090 |
| Chipset Brand | NVIDIA |
| Graphics Card Ram Size | 24 GB |
MSI Suprim X is a series of gaming graphics cards now the manufacturer's top-end, displacing the Gaming X Trio from the pedestal. We decided to take a closer look at its older representative – RTX 3090. Our review will tell you about the advantages and disadvantages of this video card.
Recently, the Gaming X Trio line was the oldest among MSI graphics cards. In recent years, faster models have also been released, called Lightning Z, which offered higher performance due to carefully selected components and various improvements. However, MSI has now introduced the new Supreme X line, which is now considered the highest-level – it includes custom versions of the RTX 3070, 3080 3090… At the same time, the Gaming X Trio models have not gone anywhere, but they turned out to be shifted from the pedestal by the new Supreme X products, which, due to the higher TDP limit in the BIOS, offer higher performance.
Due to the higher power consumption limit and more efficient cooling system, the MSI GeForce RTX 3090 Suprim X should be more potent than the corresponding Nvidia Founders Edition. The MSI GeForce RTX 3090 Suprim X copes well with any game, except for single projects where the frame counter drops below 60 fps in 4K ( the same Cyberpunk 2077).
The MSI GeForce RTX 3090 Suprim X build quality is excellent; it looks like a premium segment. The backplate and the plate covering the cooling system are aluminum, although the latter has decorative plastic inserts.
Sale
MSI GeForce RTX 3090 Supreme X
Memory Speed:19.5 Gbps.Digital Max Resolution:7680x4320
Chipset: NVIDIA GeForce RTX 3090
TRI FROZR 2 Thermal Design
Video Memory: 24GB GDDR6X.Avoid using unofficial software
Verdict
GeForce RTX 3090 Suprim X is MSI's new top-end gaming graphics card. It requires a lot of power and provides excellent performance but can run into the processor at standard and low resolutions. The Nvidia GeForce RTX 3090 is the most powerful gaming graphics card available today. The modified version from MSI – GeForce RTX 3090 Suprim X – demonstrated excellent gaming performance.
However, buyers need to understand that top-end performance comes at a price – in this case, high power consumption. The system (without a monitor) required more than 600 watts during operation under load in our tests! The main advantage of the GeForce RTX 3090, along with its performance, is a large amount of video memory – 24 GB. For comparison, the GeForce RTX 3080 has two times less of it, which may become a problem in the future. For comparison, AMD decided not to repeat Nvidia's mistakes because its RX 6000 accelerators have 16 GB of video memory.
ASUS RTX 3080 TUF Gaming
| | |
| --- | --- |
| Memory Speed | 14000 MHz |
| Graphics Coprocessor | NVIDIA GeForce RTX 3080 |
| Chipset Brand | NVIDIA |
| Graphics Card Ram Size | 10 GB |
The TUF Gaming GeForce RTX 3080 graphics card is packed with innovative solutions to improve power and cooling. Three powerful Axial-tech fans with durable double ball bearings run under a newly designed metal casing. The RTX 3000 graphics cards received new GPUs. This is one of the most advanced graphics accelerators based on the NVIDIA Ampere architecture with support for DirectX 12 Ultimate and real-time ray tracing technology, focused on projects in 4K resolution.
There are no words for these beasts, as the RTX 3080 is one of the most powerful graphics cards, and no one can beat them at their price.
The performance of the RTX3080 is excellent, and this graphics card offers twice the performance of its RTX 2080 Ti predecessor but at half the price. The competitor to this graphics card is the RX 6900 / XT, the best value graphics card, but the RTX 3080 provides the best performance at 1440p. This graphics card can give you triple-digit frame rates at ultra settings for 4K gaming.
Another thing that is unique to the Nvidia RTX series graphics card is Ray Tracing and DLSS. With this generation, Nvidia released the second generation RTX, which is much better than before. You can go for the aftermarket ASUS TUF RTX 3080 card, which you perhaps know as one of the best-performing and most reliable graphics cards. GeForce RTX 3090 is the most potent 24GB graphics card in the Ampere family, giving you access to Titan-class performance.
The developers address the device not even to the owners of 4K monitors but to gamers who want to enjoy the picture in 8K format. It is essential to remember that 8K panels are even more expensive in retail than GeForce RTX 3090.
Sale
ASUS RTX 3080 TUF Gaming
NVIDIA Ampere Streaming Multiprocessors: The building blocks for the world's fastest, most efficient GPU,...
2nd Generation RT Cores: Experience 2X the throughput of 1st Gen RT Cores, plus concurrent RT and shading for...
3rd Generation Tensor Cores: Get up to 2X the throughput with structural sparsity and advanced AI algorithms...
Axial-Tech Fan Design has been newly tuned with a reversed central fan direction for less turbulence.
Verdict
ASUS TUF GAMING GeForce RTX 3080 O10G is an excellent card that allows you to comfortably play the most current projects with the best graphics and tracing, and for this, you do not need to assemble a new computer from scratch. On the other hand, its cost is still far from even the recommended one, and for this money, you can buy two consoles and even remain on Xbox Game Pass. If you are only planning to assemble a modern PC for the next 5-7 years, you will need at least another 100 thousand for the rest of the spare parts.
GeForce RTX 3090 is an exciting product positioned as a gaming product (designed for a picture in 8K resolution). Still, it is aimed at enthusiasts (who will conquer ratings in 3DMark with the help of a profile accelerator) and miners (24 GB of memory on one board is a tidbit).
For gamers looking to get the most out of 4K resolution (high fps and detailed picture), we recommend paying attention to the GeForce RTX 3080 because it is a more balanced and entertainment adapter (and also less noisy and colder), which costs at least 30 % cheaper than RTX 3090.
XFX RX 5600 XT Thicc II Pro
| | |
| --- | --- |
| Memory Speed | 14 GHz |
| Graphics Coprocessor | AMD Radeon RX 5600 XT |
| Chipset Brand | AMD |
| Graphics Card Ram Size | 6 GB |
The Radeon RX 5600 XT is a reduced memory version of the Radeon RX 5700 and is essentially a lower clock. Compared with its previous edition, it has the same core GPU configuration and can deliver over a smaller 192-bit bus. The new XFX Thicc II Pro is noticeably shorter and slimmer than the RX 5700. The XFX card runs on the copper cooling plate that solves the issue of low memory temperatures and places additional vents on the edge of the cover.
The RX 5600 XT is rated for 1080p and can handle 1440p with slight degradation. The core is the same as the RX 5700, with 36 Compute Units (CU), and 2304 Stream Processors (SP) compared to the 40 CU, and 2560 SP found in the RX 5700 XT. This card is topped off by an attractive metal backplate adorned with the XFX logo, although the cover is plastic. It has two large axial fans that push hot air into your system. The RX 5600 XT connects through a single 8-pin connector to your power supply, while you will find three DisplayPort for outputs or a single HDMI connection.
XFX offers us the THICC II PRO, a powerful card whose only flaw is to heat more than the competition. We have shown you that it makes sense, given its small thickness and the occupation of only two slots. A price currently displayed at 300 euros makes it an excellent choice, considering that good air circulation will be necessary in your case.
XFX RX 5600 XT Thicc II Pro
The AMD Radeon RX 5600 XT graphics card is designed for the ultimate 1080p gaming experience. Turn up your...
GPU 5600XT
Memory 6GB GDDR6 at 14Gbps
XFX Thicc II dual fan cooling
Verdict
XFX offers this "THICC II PRO" series a card with many advantages. The first is, without a doubt, that we are on a model which will not require us to go through the flash box of the bios. You can safely buy this model with memory chips clocked at 1750 MHz.
Personally, the design of the card and its sober look won us over. Combining the front fairing and the rear backplate also convinced us and allowed XFX to stand out against the competition. The performances are there, and even if AMD restricts overclocking, we can quickly reach the limits authorized by AMD. Its low thickness is also an asset, resulting in higher temperatures than the other two RX 5600 XTs passed through our hands. A case with good air circulation will reduce and contain temperatures.
GIGABYTE GeForce GTX 1660 Ti OC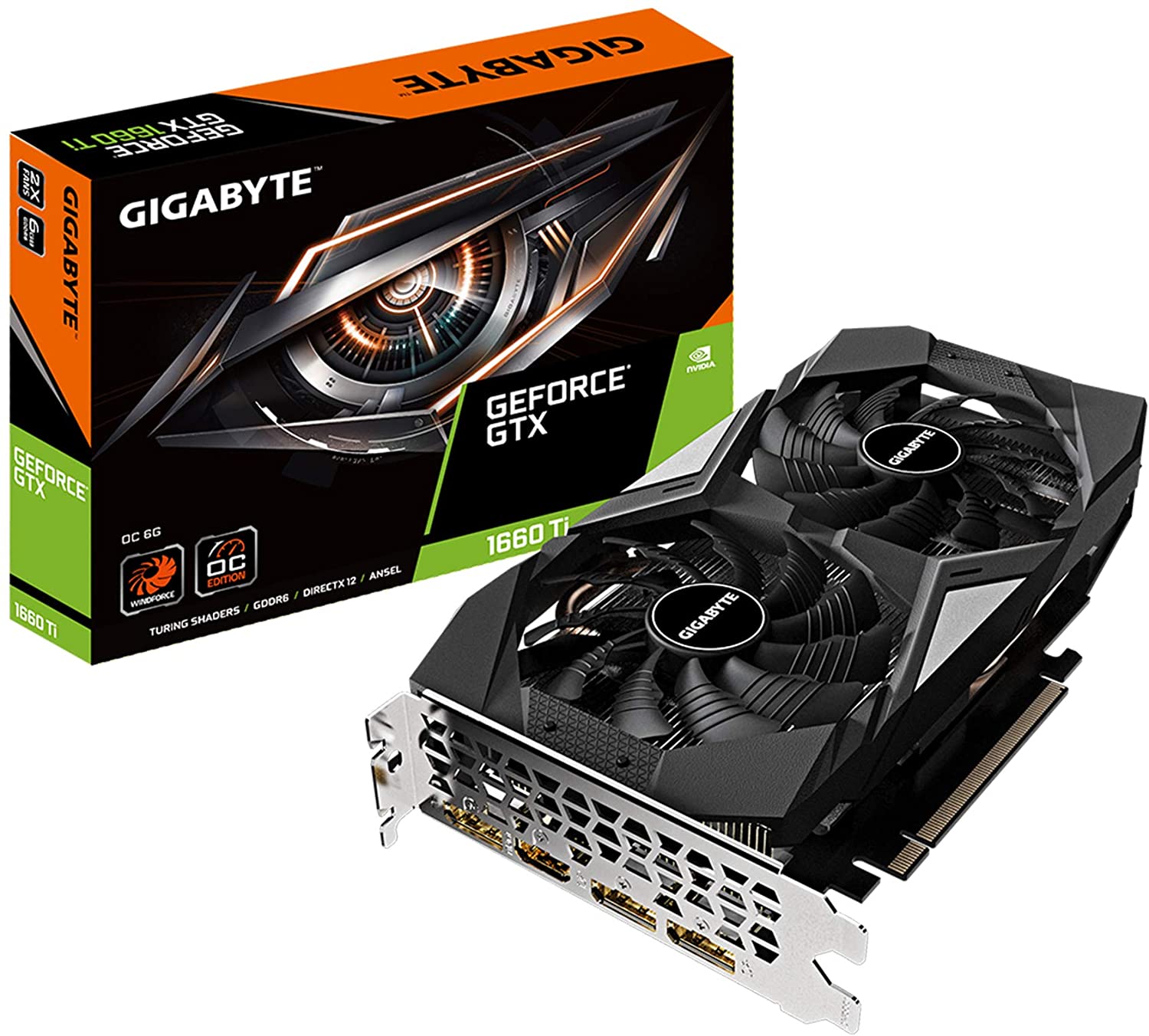 | | |
| --- | --- |
| Memory Speed | 12000 MHz |
| Graphics Coprocessor | NVIDIA GeForce GTX 1060 |
| Chipset Brand | NVIDIA |
| Card Description | Integrated |
| Graphics Card Ram Size | 6 GB |
| Number of USB 2.0 Ports | 1 |
Currently, almost all next-gen graphics cards are out of stock on the market, and this is due to wafer shortages and low card production by manufacturers. If you're hoping for these graphics cards to stay stable in the market and desire to have your MSRP even at a lower price, you can get the GTX 1660 Ti for your Ryzen 5 5600X. This graphics card is undoubtedly an excellent option for 1080p gaming, and if you can compromise your game settings, you can even go for 1440p.
There are some similar options to this graphics card, too, like the GTX 1070, that you can get on the used market, and that card is good for mid-range gaming, too, even these days. Gigabyte has the best deal on the GTX 1660 Ti, which is better than the founder's edition and is almost the same price. This graphics card is factory unlocked so you can expect better clock speeds and performance.
The GTX 1660 Ti graphics card comes in familiar and easily recognizable packaging for most users. Important in the design is the name of the graphics adapter series, the name of the video card line, and the technologies present. The GIGABYTE GTX 1660 Ti GAMING OC graphics card has 6GB of onboard memory and is factory overclocked. This graphics card is very inexpensive, and you can sell it at reasonable prices when you get the current generation graphics card at a regular price.
Sale
GIGABYTE GeForce GTX 1660 Ti OC
Powered by GeForce GTX 1660 Ti integrated with 6GB GDDR6
Windforce 2x cooling system with alternate spinning fans
Intuitive controls with AORUS engine
6GB 192-bit GDDR6
Verdict
The Gigabyte GeForce GTX 1660 Ti Gaming OC 6G (6GB) is an excellent option for the GeForce GTX 1660 Ti for those who do not need manual overclocking, fancy backlighting, and other excesses inherent in enthusiast products. This is one of the best accelerators for the price segment of 20-25 thousand rubles and all gaming video cards regarding the ratio of features and prices. Despite the relatively modest positioning, the card has an improved power supply system and slightly increased operating frequencies. A big plus of the Gigabyte GeForce GTX 1660 Ti is a quiet and highly efficient cooling system that does not increase the dimensions of the accelerator (it occupies the standard two slots in the system unit).
With the GeForce GTX, 1660 Ti players get comfort at maximum graphics settings at a resolution of 1920 × 1200 (1080) in all games; some modern games can be played with the same ease at a resolution of 2560 × 1440. The GeForce GTX 1660 Ti is an excellent replacement for the outgoing GeForce GTX 1070, which is more expensive today, and the presence of 6 GB of memory in the GTX 1660 Ti versus 8 GB in the GTX 1070 has practically no effect on performance when it comes to Full HD resolution.
Evga GeForce GTX 1070 SC Gaming
| | |
| --- | --- |
| Memory Speed | 8008 MHz |
| Graphics Coprocessor | NVIDIA GeForce GTX 1070 |
| Chipset Brand | NVIDIA |
| Card Description | GeForce GTX 1070 |
| Graphics Card Ram Size | 8192 GB |
GeForce GTX 1070 comes from the family of NVIDIA graphics processors, with up to 100% more performance than previous series cards and excellent graphic development in virtual reality and video games.
Meanwhile, Evga GeForce GTX 1070 has a data width of 256 bits, a CPU speed of 1920 MHz, a memory clock speed of 8008 MHz, and a frequency of 1594 MHz with a maximum resolution of 7680 x 4320 pixels. It only weighs 1.3 kilograms; it is highly recommended for gaming since its processing speed is genuinely high.
Sale
Evga GeForce GTX 1070 SC Gaming
Real Base Clock: 1506 MHz / Real Boost Clock: 1683 MHz; Memory Detail: 8192MB GDDR5
Completely adjustable RGB LED using EVGA Precision XOC
What you see is what you get! – No additional software required to achieve listed clock speeds
Double BIOS. Revolutionary new 360-degree image capture
Verdict:
The Evga GeForce GTX 1070 SC is the best graphic card in maximum load, noise, and temperature remaining at low values, allowing you to achieve good results during overclocking. Meanwhile, out-of-the-box overclocking will enable you to win a noticeable boost in games with 4K gaming, and for 1080p, this is an ideal card that demonstrates an FPS in all modern games.
Conclusion
In the case of the AMD Ryzen 5 5600X processor, the choice of graphics card directly depends on your budget. There are no CPU performance limits here. It will cope with the top-end NVIDIA RTX 3000 and Radeon RX 6000. Choose a video card for your resolution or take with a margin. We hope you can now determine which graphic cards suit the AMD Ryzen 5 3600. The above discusses graphic cards show the best performance in games compared to other graphic cards.
If you consider yourself a gamer and need speed and quality for your games, you need an AMD Ryzen 5 5600X processor. Choose the best graphics card to improve performance and optimize data processing speed and image quality. Nvidia GeForce RTX 2060 SUPER and AMD Radeon RX 5700 XT have the maximum result. The percentage of their compatibility with this processor is 3.96% and 3.69%, respectively.