Building a gaming PC from scratch is the only surefire way to ensure that the system will satisfy all your personal preferences. When you determine everything on your PC, you know that it's easy to play the games at the frame rates without sacrificing performance from the power supply. In addition, a custom-built PC with Ryzen 5 5600X + Radeon RX 6700 XT will allow you to make more updates, either as technology changes, your gamer needs and tastes change, or your budget allows it.
Indeed, building a PC seems like a daunting task, but you'll find it easier if you know which components are perfect. The latest hardware from AMD seems essential to enhance the speed of playing. Both the Ryzen 5 5600X, (claims to be the national processor) and the Radeon RX 6700 XT, (provides excellent gaming performance), are important to build a PC within your budget.
All AMD fans who desire to build the best PC need to purchase core components of AMD Ryzen 5 5600X + AMD Radeon RX 6700 XT. Before building the PC, you need to evaluate its component's price and the valid reason for choosing them.
What to consider at the time of building a Ryzen 5 5600X + Radeon RX 6700 XT PC?
If your PC doesn't meet the gaming requirements, it might be time to build your gaming PC. If you intend to take your games to a whole new level of personalization, then our gaming PC building guide will provide all the necessary instructions to create the best solution.
The most important decision is to select the required performance level for the new computer. Building a powerful PC with Ryzen 5 5600X + Radeon RX 6700 XT components on a tight budget is a feasible task. You don't have to pay the highest price for good performance. However, if we are exceeding the threshold of gaming capabilities with the help of the latest equipment and gaming accessories, then this will be higher in cost. It doesn't matter which path you take. In any case, PC assembly begins with its hardware components.
Hardware is the backbone of your gaming machine. It is responsible for almost every aspect of performance. This includes speed, response time, frame rate, and the ability to run multiple applications simultaneously (for example, launching a game while simultaneously recording its progress on video). All other devices and software may be useful but not required because the capabilities of the hardware determine the effectiveness of these components.
Elements for PC assembly
Motherboard
Processor (CP)
Cooler
Memory (RAM)
Storage (disks)
CPU
Power supply
Here in this guide, you will know how Ryzen 5 5600X + Radeon RX 6700 XT builds the latest PC while putting its all components.
CPU: AMD Ryzen 5 5600X
| | |
| --- | --- |
| Brand | AMD |
| Series | AMD Ryzen 5 5600X, with Wraith Stealth |
| Item Weight | 2.8 ounces |
| Product Dimensions | 1.57 x 1.57 x 0.24 inches |
| Processor Brand | AMD |
| Processor Count | 6 |
Today, AMD is shaking up the consumer CPU market significantly. With the introduction of the Ryzen 5000 series of CPUs, the company is poised to take on every crown of a major achievement, from gaming to content creation to prosumer work. The AMD Ryzen 5 5600X is going to be one of the best-selling CPUs in 2021. This new Zen 3 architecture bursts into the gaming market where Intel dominated with solvency with its 10th Gen and its high frequencies.
AMD has also responded with an increase in working frequencies with an impressive IPC improvement of up to 19% with its six cores and 12 threads. The AMD Ryzen 5 5600X replaces the value of the recently introduced Ryzen 5 3600XT because it comes with six cores and 12 threads with 19% IPC improvement. Traditionally the X600X series has been the most attractive AMD for gaming equipment classified as "the smart buy."
The Ryzen 5 5600X is the most accessible new AMD range, but that doesn't mean it's very straightforward in terms of specs. It will launch for $ 299 and has six cores and 12 threads for performance. This makes it well-suited for gamers on a budget who also want to deal with streaming or content creation.
Clock frequencies have also been increased compared to the previous generation. With a base frequency of 3.7 GHz and a boost frequency of 4.7 GHz, the operating range with a higher potential peak is wider.
The price of the AMD Ryzen 5 3600 continues to decline, and one of the best processors of 2019 is becoming even more attractive. Six cores and 12 streams on the microarchitecture of the Zen 2 is the optimal performance-to-price ratio today. Intel has only six-core processors in this price category without Hyper-Threading technology.
Sale
CPU: AMD Ryzen 5 5600X
AMD's fastest 6 core processor for mainstream desktop, with 12 processing threads
Can deliver elite 100 plus FPS performance in the world's most popular games
Bundled with the quiet, capable AMD Wraith Stealth cooler. System Memory Type: DDR4
4.6 GHz Max Boost, unlocked for overclocking, 35 MB of cache, DDR-3200 support
Power supply: be quiet! SYSTEM POWER 9 600W
| | |
| --- | --- |
| Product Dimensions | 5.51 x 5.91 x 3.39 inches |
| Item Weight | 3.96 pounds |
| Manufacturer | BE QUIET |
It is assembling a powerful enough computer; you need to pay special attention at the time of choosing the power supply and other assess the real power consumption of components. According to the surveys, AMD Ryzen 5 3600 consumes more than 65 watts, whereas its consumption is limited to the PPT Limit and can reach up to 88 watts.
The MSI AMD Radeon RX 5700 MECH has a maximum power consumption of up to 225 w and is recommended for a power supply of 750 W. Of course, in my humble opinion, 750 watts would be very much for this build, so I chose the power supply to be quiet! SYSTEM POWER 9,600 watts. The 12-volt line gives out a power of 576 W, which is enough for our computer.
Power supply - be quiet! SYSTEM POWER 9 600W
Rock-solid stability with two strong 12V-rails. Note: Provided with both UK & EU plug
DC-to-DC technology for tight voltage regulation
Multi-GPU support with four PCIe connectors
Temperature-controlled 120mm fan reduces system noise
CPU Cooler: Cooler Master Hyper 212 Black Edition
| | |
| --- | --- |
| Brand | Cooler Master |
| Item model number | RR-212S-20PK-R1 |
| Item Weight | 2.06 pounds |
| Product Dimensions | 4.7 x 3.1 x 6.3 inches |
Cooler Master Hyper 212 is also called a classic cooler in the innovative world. However, the previous versions did not look as stylish as the new Black Edition. The advantages of the cooler include simple design, good craft, convenient fastening of the cooler to the processor, dimensions that do not prevent the installation of memory modules with high heatsinks, and a good package bundle. The Cooler Master Hyper 212 can be recommended to those users who need good low-noise cooling and do not need a flickering cooler.
Cooler Master Hyper 212 is a universal solution that can install on any modern and even outdated PC. The Hyper 212 looks impressive, like most tower coolers. The black color gives it a special charm because we have Black Edition. It looks austere, impressive, and stylish. Since the product is quite bulky, it will most likely fit right next to the RAM modules.
Sale
Cooler Master Hyper 212 Black Edition CPU Air Coolor, Silencio FP120 Fan, 4 CDC 2.0 Heatpipes
Direct contact technology: 4 Heat Pipe with exclusive direct contact Technology effectively provides excellent...
Precise air flow: Stacked fin array ensures least airflow resistance which allows cooler air flow into the...
Smart fan sensor for jam protection: Never worry about your cables getting snagged or components being mucked...
Snap and play: Intuitive fan bracket design makes upgrading and removing the fan a breeze
Motherboard: MSI MPG B550 Gaming Edge WiFi
| | |
| --- | --- |
| Brand | MSI |
| Item model number | MPG B550 GAMING EDGE WIFI |
| Item Weight | 4 pounds |
| Item Dimensions LxWxH | 12 x 9.6 x 1.5 inches |
| RAM | DDR4 |
| Memory Speed | 4866 MHz |
| Wireless Type | Bluetooth |
A good motherboard option from a trusted manufacturer is helpful to get a B450 chipset at an affordable price. The motherboard is made in mini-ITX format (17×17 cm), which required the manufacturer to think over all elements on the board so that there would be no problem occur during assembly or system maintenance. As for the design, there is one interesting detail here. More precisely, it is not there – RGB backlighting is completely absent. The color scheme is minimal – black with small gray inserts. The motherboard determines the type of storage available, the drive size (2.5 inches, mSATA or m.2), and the type of interface.
The MSI MPG B550I Gaming Edge WiFi is a mini-ITX motherboard based on the AMD B550 chipset that can serve as the basis for a gaming or work system using the most recent processors and graphics cards, as well as SSDs with PCIe 4.0 interface. Sounds tempting, doesn't it? Even somehow too good. In the MSI MPG B550 packaging, a user will get an MSI case badge, 2x SATA cables, a Driver DVD, a Promotion card, an MSI product catalog, and even a product registration card.
MSI MPG B550 GAMING EDGE WIFI Gaming Motherboard
Support for 3rd Gen AMD Ryzen processors and future AMD Ryzen processors with BIOS update
Supports dual channel DDR4 memory up to 128 GB (4866 MHz)
2.5G LAN with LAN Manager and Wi-Fi 6 AX Solution
MYSTIC LIGHT: RGB LED lighting and extendable pin headers – 16.8 million colors / 29 effects
GPU: AMD Radeon RX 6800 XT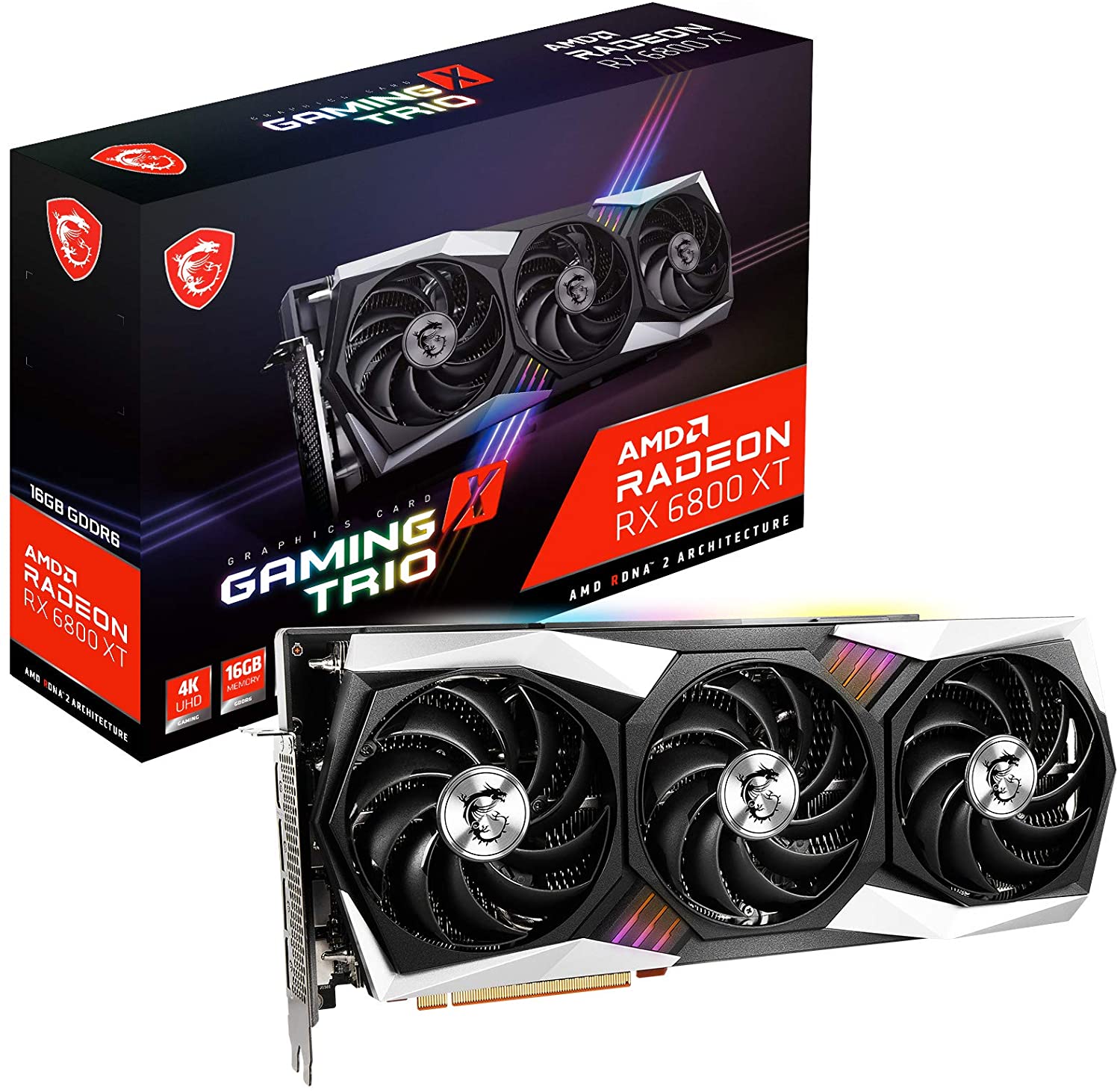 | | |
| --- | --- |
| Max Screen Resolution | 7680 x 4320 |
| Memory Speed | 2285 MHz |
| Graphics Coprocessor | AMD Radeon RX 5700 XT |
| Chipset Brand | AMD |
| Graphics Card Ram Size | 16 GB |
If we compare the Radeon RX 6800 with the Radeon RX 6700 XT, then the junior solution is cut by 20% in terms of the number of active computing units. The Radeon RX 6700 operates 3840 stream processors with 240 texture units and 60 trace processing cores at 96 raster units. Reduced GPU operating frequencies – The game Clock is set to 1815 MHz with a Boost Clock of 2105 MHz, while the Radeon RX 6800 XT has 2015 MHz and 2250 MHz.
The increase in the RDNA 2 computing units allows for enhancement of the processing capacity of the card in classical shading techniques and introduces specific units for RayTracing for each computing unit.
The Radeon RX 6800 XT is one of the two cards of this generation that develops a consumption of up to 300w TDP. The active cooling system is now provided by three independently adjustable speed 80mm axial fans and hybrid fan mode with a complete stop when the card is idle, specifically below 55 degrees of temperature. The design is more elaborate and innovative than in previous editions.
Sale
AMD Radeon RX 6800 XT
Chipset: Radeon RX 6800 XT
Video Memory: 16GB GDDR6
Memory Interface: 256-bit
Output: DisplayPort x 3 (v1.4) / HDMI 2.1 x 1
RAM: G.Skill Ripjaws V 16GB (2x8GB) 3600MHz
| | |
| --- | --- |
| Package Dimensions | 7.99 x 5.24 x 0.55 inches |
| Item Weight | 4.2 ounces |
| Manufacturer | G.Skill |
In the innovative world, memory data rates depend on the internal memory controller of the CPU.
G.Skill's Ripjaws V 16GVR may be outdone through legacy kits; however, the DDR4-2666 option is better as the supply dwindle. The kit provides a single CAS 15 XMP configuration on DDR4-2666, which only compares somewhat unfavorably to the 13-15-15 times of its main competitor. G. SKILL chose a transparent plastic blister as packaging. The front side is transparent – through the blister, you can see the RAM strips located on a cardboard backing.
Boosting your memory is one of the fastest, easiest, and most affordable ways to improve your gaming machine's performance, no matter your budget. Maximizing your RAM is a must-have part of building a gaming PC.
G.Skill Ripjaws V 16GB DDR4 16GVRB Kit (2x8GB) [F4-3200C16D-16GVKB]Is a dual-channel DDR4 memory for maximum compatibility and performance when paired with a 6th Gen Intel® Core ™ processor on the Z170 series chipset. The module is designed with a low voltage setting of 1.2V ~ 1.35V according to the DDR4 standard, which reduces the memory voltage requirement by 20% compared to DDR3 memory kits.
Best 1080p Monitor - ASUS VG248QG
24 inch Full HD (1920x1080) display with an overclockable 165Hz (supports 144Hz) rapid refresh rate and 0.5ms...
NVIDIA G-SYNC technology removes stutter and screen tearing for the smoothest gaming experience
ASUS Eye Care technology with flicker-free and blue light filter to minimize eye fatigue
Flexible connectivity with HDMI (v1 4) DisplayPort 1.2 and Dual-link DVI-D ports
Storage: Silicon Power A80 1TB NVMe SSD
| | |
| --- | --- |
| Brand | SP Silicon Power |
| Hardware Platform | Laptop, PC |
| Item Weight | 0.282 ounces |
| Product Dimensions | 3.15 x 0.87 x 0.16 inches |
| Color | A80 |
| Flash Memory Size | 1 |
| Manufacturer | SP Silicon Power |
Silicon Power P34A80 is a typical drive built on the PS5012-E12 controller, the first Phison chip for NVMe SSD, which is legitimate to use where the user is interested in something besides a low price. The engineers of the Taiwanese developer have been unable to design any truly productive solution for a long time, but with the E12 platform, it seems that something has begun to work out.
Since the new chip has become noticeably faster than previous solutions, it is not surprising that it has finally come close to modern controllers for high-performance NVMe drives from other developers in terms of internal architecture. So, PS5012-E12 is based on a dual-core ARM processor with a frequency of 667 MHz, offers eight channels for connecting flash memory, supports four PCI Express 3.0 lines for communicating with the system, and is equipped with a DDR4 / DDR3L interface for implementing an internal buffer.
Sale
Silicon Power 1TB NVMe M.2 PCIe Gen3x4 2280
Super-fast PCIe Gen3x4 interface for read/write speeds of up to 3,400MB/s/ 3,00MB/s
TBW=800
The warranty terms on all of its SSDs are based on whether the warranty length or TBW limit occurs first.
To support a Silicon Power PCIe SSD, the system must have an M. 2 connector with only an M key. The Silicon...
PSU: Thermaltake Toughpower GF1 750W 80+ Gold
| | |
| --- | --- |
| Brand | Thermaltake |
| Series | PS-TPD-0750FNFAGU-1 |
| Item Weight | 5.5 pounds |
| Product Dimensions | 12.99 x 9.06 x 6.69 inches |
| Item Dimensions LxWxH | 12.99 x 9.06 x 6.69 inches |
| Manufacturer | Thermaltake |
Thermaltake's Toughpower GF1 ARGB Gold series offers three power supplies in 650, 750, and 850 watts. All three power supplies are 80Plus Gold certified; we are going to meet the senior representative of this small group – the Toughpower GF1 ARGB 850W Gold power supply.
The power supply has a switch that allows you to select the operating mode of its cooling system: conventional or hybrid. In the first case, the fan rotates during the operation of the power supply unit all the time, and in the second, it can sometimes stop.
Most of the latest Thermaltake PSUs have a similar die-cast grille chassis with a low footprint. Their external similarity does not add convenience when navigating the lineup. We can immediately notice that it is equipped with a patented dual-zone ring fan illumination with a display of 16.8 million colors. The backlight is based on 18 individually addressable LEDs.
The most important thing when choosing a power supply is to make sure that it provides the correct power to the computer. This is especially important when building a high-performance computer. On the other hand, it may be necessary to improve cooling and internal airflow at higher voltages. The ratio of the power on the + 12VDC bus to the apparent power is 1.0, which, of course, is an excellent indicator. All the essential parameters indicate that the power supply is in full, and the declared value is 850 watts.
Sale
Thermaltake Toughpower GF1 750W 80+ Gold SLI/Crossfire Ready Ultra
[80 plus gold and Intel C6/C7 States ready] - deliver up to 90% efficiency, Gf1 Series optimized to work with...
[Ultra quiet 140mm hydraulic Bearing fan] - self-lubricated hydraulic Bearing PWM fan superior cooling...
[Smart zero fan] - auto-regulated fan speed based on power consumption for a quiet and efficient operation....
[16AWG wires] - Upgraded CPU/PCI E main cables (16AWG wires) for high end enthusiasts' Pcs
Case: Phanteks Eclipse P400A Digital
| | |
| --- | --- |
| Brand | Phanteks |
| Series | Phanteks Eclipse P400A Digital Black |
| Item Weight | 18.7 pounds |
| Item Dimensions LxWxH | 18.5 x 8.3 x 18.3 inches |
| Color | Black |
Phanteks is a Dutch company founded in 2007. It gained popularity for its combination of both minimalist and futuristic exterior types of hulls with a thoughtful layout. On review, the new model PHANTEKS – Eclipse P400A black. Unlike premium, the Eclipse series is designed for the mid-price market. The Phanteks Eclipse P400A mid-tower is medium, like most cases. The main distinguishing feature was the mesh front Eclipse P400A instead of a solid metal panel. Phanteks Eclipse P400A is packed into a cardboard box with black and white graphic images and fonts. Front: company name, schematic image of the front of the case, and model of the case.
The look on the outside is different from most Phanteks cases. Previously, PHANTEKS models were made as a monolith with passing deaf panels. The updated Eclipse series was complemented by MESH-type models with a pass-through mesh front panel. Like previous versions with deaf metal panels, the cases retained three colors: black, white, and graphite.
The Phanteks Eclipse P400A can be recommended as a model for the average user. The case is sold at an acceptable price with two prices for fans of illumination and without it. The body's temperature is cold as it is designed for direct airflow without restrictions, which you expect from the case.
Phanteks Eclipse P400A Digital ATX Mid-tower
Optimal cooling performance with the ultra-fine performance mesh front panel and features a tempered Glass...
Spacious open interior: supports up to E-ATX motherboard, 280/360mm radiator in front, vertical GPU mounting...
Integrated Digital-RGB controller with 3x pre-installed D-RGB fans that can sync with compatible motherboards...
Extensive storage options: 6x HDDs (2x HDD trays included) and 8x SDD (2x dedicated bracket included) mounting...
How to Build a Gaming PC on a Budget?
Many of the off-the-shelf, expensive desktop computers could be cheaper. By assembling the system, yourself, you do not waste money on components that you do not need. When buying individual computer parts from various stores, you may also need the help of a specialist in this manner.
Today, the processor architecture, the number of cores, the size of the buffer memory, and the power of the integrated video adapter have begun to play a significant role. The companies' pricing policies are still the same, whether Ryzen 5 5600X or Radeon RX 6700 XT.
Prices for gaming machine components will vary according to their model. If you want to save money when building a gaming PC, you should meet at least the minimum requirements for the games you envision. Preparing for the future ahead of time saves both time and money. New games require more resources, and instead of playing, you have to update the system components constantly.
How to save money on RAM and SSD purchases?
Memory and storage make up a significant portion of the cost of a new gaming computer. When assembling it, you can save money by installing your components. The price of RAM and SSDs grows as their volume (in GB) increases. But do-it-yourself installation is still cheaper than buying a PC with pre-installed (and often inappropriate) components that will soon have to be replaced.
Final Words
The above are the listed components to build Ryzen 5 5600X + Radeon RX 6700 XT, enhancing the gaming experience and making it more accurate and comfortable through an ergonomic design.
The main benefit of building your gaming PC is that you can easily upgrade your system in the future. Considering that new hardware is constantly emerging, the possibilities for customizing your PC are practically unlimited, and your computer can be as modern as you want it and as far as your budget allows. Streamline your processes and daily tasks with the help of computer equipment that adapts to your company's needs and knows the characteristics of Ryzen 5 5600X + Radeon RX 6700 XT components while building your custom PC.